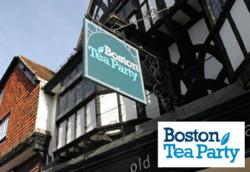 As the scale of our business grows, Sage 200 will be able to handle a larger number of transactions than our previous system, providing a scalable solution that will support us into the future.
Warrington, UK (PRWEB UK) 30 March 2012
Boston Tea Party Group Limited is a family owned, award-winning café group. It first opened its doors in 1996, aiming to provide a refreshing contrast to the usual 'cloned' high street dining experience. Each of its 11 cafés is designed to be a one-off, with close links to its local community.
Now, Boston Tea Party is about to embark on the first steps of a migration to Sage 200 Financials, with the support of Sage Business Partner Datel.
From the café group's Bristol head office, Finance Director Shelley Wadey explains the reasons for seeking an alternative to its previous system, Sage 50 Accounts: "While it had served us well in the early days, Sage 50 Accounts could no longer support our business requirements and was struggling to cope. Looking for a more powerful solution in the Sage range was a natural progression for our business."
As a result of discussions with Datel, Boston Tea Party ordered Sage 200 Financials, and Datel is now about to hold the first workshop to discuss exactly how the new solution will align with business processes and needs. Other migration services will include data conversion and training for users in the finance team. The aim is to go live in early summer 2012 with a system that is set to deliver reliable support for essential financial processes, such as purchase ledger management and financial reporting.
Shelley outlines the benefits that Boston Tea Party expects to experience from implementing Sage 200: "For a start, it will align much more closely with our business model. For example, we needed a system that can handle the 4–4–5 retail calendar and this is a standard option within Sage 200."
Looking ahead, Shelley agrees that while business growth is exciting, it needs careful management: "Our business strategy is to expand our current 11 cafés to significantly more over time. As the scale of our business grows, Sage 200 will be able to handle a larger number of transactions than our previous system, providing a scalable solution that will support us into the future."
Management information is also vital to maintaining control of an expanding business, and improved reporting is on the agenda. "Producing reports in Sage 200 will be much more efficient," confirms Shelley. "We will eliminate the manual processes and spreadsheets that can take you only so far in a business that is growing rapidly. We're looking forward to having much more automated and more timely monthly management reports."
For Datel, Jo Fulton, Sales and Marketing Director, comments, "We are delighted that Boston Tea Party has chosen Datel to implement Sage 200 as a system that will accommodate and support its ambitious plans for growth. Over the years, Boston Tea Party has successfully differentiated itself in a highly competitive market through the quality of its products and personalised service. This is an approach to doing business that reflects Datel's own and, as the preparations for migration now get under way, we are looking forward to building a long-term partnership with Boston Tea Party."
About Datel
Datel is a software provider and leading Sage Business Partner in the UK offering ERP, accounting and CRM solutions from Sage. Datel supports over 900 customers worldwide in industries such as food and beverage, distribution, manufacturing, e-commerce and clothing and footwear.
Offering Sage ERP X3, Sage ERP 1000 and Sage 200, and CRM solutions Sage SalesLogix and Sage CRM, Datel specialises in understanding business requirements, tailoring a solution to specific needs and providing award-winning customer service and Sage Support.
About Boston Tea Party
Boston Tea Party takes a pride in serving outstanding coffee and tea, and creating delicious, affordable, feel-good food with products sourced from ethical and local suppliers.
Sixteen years since it was established, the same founding principles are at the core of the business: to operate fairly, to offer high quality local products at affordable prices and to employ an informed, intelligent and committed workforce.