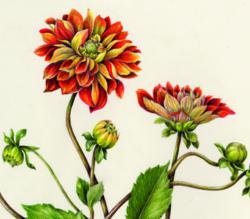 Cleveland, Ohio (PRWEB) October 28, 2011
One of our favorite artists, Wendy Hollender has recently been featured in such prestigious publications as the New York Times and O, The Oprah Magazine. Her meticulous style masterfully brings out the complexity of her subject, botanical art. Using a selection of only 20 Faber-Castell Polychromos® Color Pencils, Hollender skillfully blends colors and uses layering techniques to match the exact shade found in nature. Since the pencils are oil-based, there's no issue with "waxy bloom" or buildup affecting the creative process. With leads that are easy to sharpen to a fine point and resistant to breakage, she achieves the detailed nuances and subtle shadings found in flower petals, berries, bird wings, and other elements of nature to create beautiful botanical scenes.
Hollender appreciates the versatility of Polychromos® Color Pencils from their highly pigmented leads with smooth color lay down to their optimal lightfastness that helps preserve her pieces. As she explains, "I had been looking for a pencil that had a good lightfast rating and having found these pencils then I found all kinds of other properties that they have that made them even more desirable." In addition, the pencils offer flexibility as they are easily transportable and as a dry medium convenient to use in different environments. She sometimes uses Albrecht Durer Watercolor Pencils in her work, as they are color indexed to the Polychromos® Color Pencils and complement them as a mixed medium for achieving soft effects in the illustration.
An accomplished botanical instructor, she also conducts workshops in New York City and various tropical locations that feature Polychromos® Color Pencils, and has done demonstrations in the Faber-Castell booth at tradeshows.
Hollender's artwork nicely reflects important attributes of the company, in particular, quality and tradition. Her Jade Vine illustration was showcased on the cover of the 2009-2010 Art & Graphic catalog, while the Dahlia illustration graced the front of the 2010-2011 catalog, and other work appears in subsequent catalogs and on our website as well at http://artgraphic.fabercastell.com.
You can also watch her Botanical Illustration video in the Video Gallery on the site. More of her artwork, books for purchase, and workshop information is available on her website at http://drawingincolor.com.
For more than a century, artists, designers, architects and illustrators have used Polychromos Color Pencils because of their exquisite color range of 120 shades, unsurpassed lightfastness, smooth color lay down, SV-bonding of the leads to resist breakage, and excellent point retention.
Faber-Castell is one of the world's leading manufacturers of fine artist materials. Founded in 1761, the company is celebrating its 250th Anniversary in 2011. Our graphite, color and watercolor pencils, charcoals, artist pens, oil pastels and more offer unlimited opportunities for creative expression and design. The Art & Graphic line features the absolute finest professional art materials, while the Creative Studio® line contains products for students and aspiring artists.
###