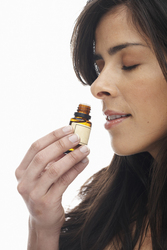 HOBART, IN (Vocus) June 8, 2010
Botanic Choice has added ten more essential oils to its existing aromatherapy products. While aromatherapy is increasingly popular, many Americans still miss out on the numerous health benefits essential oils can bring like increased energy, relaxation, and greater concentration.
Dr. Karen Yale, Chiropractic Physician, Board Certified Clinical Nutritionist and health advisor to Botanic Choice, explains the relationship between the sense of smell and health benefits saying, "Because the olfactory nerve is right in front of the brain, it sends messages immediately and directly to it. Once an aroma is encountered, it's committed to memory and attached to an emotion. For example, cinnamon can evoke pleasant holiday memories or lilac brings thoughts of spring."
Essential oils are typically used in a massage and combined with a carrier oil like Jojoba, Sweet Almond or Grapeseed Oil or they are used in ceramic rings, simmering potpourri, candle or soap-making. The health benefits are absorbed through the skin and/or inhaled through the olfactory nerves.
Health benefits of essential oils
Essential oils helps trigger emotions through aromas. Emotions generate a physical response. Shoulder and back muscles relax with pleasant memories, mood is elevated, anxiety floats away, heart rates slow, and even digestion eases. Botanic Choice has added ten new essential oils, bringing its total line to 35.
Botanic Choice's ten new essential oils include:

Bulgarian Lavender for relaxation
Cade for cleansing
Cajeput for respiratory support
Carrot for cleansing and rejuvenating
Cedarwood for calming
Citronella for stress relief
Gardenia Floral for createing harmony
Myrrh for rejuvenating
St. John's Wort for lifting mood
Violet for romance
About Botanic Choice
Indiana Botanic Gardens, Inc. is a leading provider of more than 500 high-quality nutritional supplements, including its best-selling Apple Cider Vinegar Plus for weight loss support. Their line of vitamins, aromatherapy, and natural herbal remedies are sold through their catalogs, web site at BotanicChoice.com, and retail store at 3401 West 37th Ave, Hobart, Indiana (800-644-8327).
###