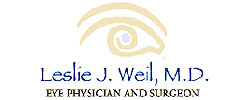 San Carlos, CA (PRWEB) May 07, 2013
Weil Eye Care Medical Center is pleased to offer discounts to its customers during the entire month of May.
Just in time for the spring season, stop into the Weil Eye Care Medical Center to freshen up that look. One of the featured specials is a $50 discount off Botox (24 units and over) and facial filler injections. When customers bring in a friend as a new patient for aesthetic treatment, they'll receive another $25 off.
In addition, customers who purchase a 10-week supply of Latisse to grow eyelashes longer, fuller and darker, will be $10 off the regular price of $179 for a 10 week supply.
Weil Eye Care also has a wide selection of children's glasses, designer glasses, and contact lenses. They carry an extensive line of Oakley frames, and can procure any current Oakley frame available.
The staff at Weil Eye Care Medical Center will have hours to accommodate work schedules, including early appointments starting at 8 a.m. and late appointments at 6 p.m.
Stop by or call to set up an appointment with Weil Eye Care Medical Center today. They can be reached at 650-517-6076.
About the Medical Practice:
Weil Eye Care Medical Center recognizes that every patient has different needs, and takes pride in delivering caring, professional and courteous service to each person who walks through the door. Whether it is an adult, adolescent or child, their knowledgeable eye doctor and staff are committed to helping them achieve their best vision and eye care.
Weil Eye Care Medical Center provides a comfortable and relaxing reception area, conveniently located adjacent to the Center's Optical Boutique. Dr. Weil specializes in medical eye care as well as facial aesthetics including Botox and facial filler injections. Dr. Weil and her staff speak both English and Spanish and have a highly experienced optician to help with all your glasses needs.
Their services include comprehensive eye evaluations for adults and children, diagnosis and treatment of eye diseases, prescription and fitting of glasses and contact lenses to optimize vision, enhance your appearance, eliminate eye strain, and meet your needs for your activities. For more information, please visit their website at http://www.weileyecare-sancarlos.com.