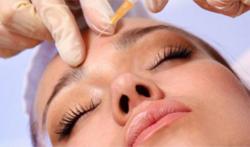 It is important to be able to have different products to work with. It gives me as a doctor, the ability to offer more customized treatments
New York, NY (PRWEB) April 18, 2013
Sensitive Touch Medical Spa in New York City adds Xeomin® botulinum injectable to its menu, now giving clients three different FDA approved ways, including Botox® and Dysport®, to relax and eliminate fine lines and wrinkles. Anyone looking for a younger appearance can achieve it almost instantly with a selection of three slightly different botulinum toxin injectables, and with the assistance of a trained dermatologist, can choose the one that is right for them. More choices ensure better results and competitive pricing gives the client only what he/she wants, and when he/she wants it.
Xeomin® is a purified form of botulinum toxin type A, better known as Botox®. It is used to improve the appearance of mild to severe dynamic lines. Xeomin® acts on nerve endings in muscles to prevent the muscle fibers from contracting. The reduction in contractions temporarily reduces frown lines on the forehead, crow's feet, and between brows. The results last on average 3 to 5 minutes and the treatment can be done during lunch time. Since Xeomin® is a pure form of Botox®, the risk of side effects and allergic reactions is potentially lower while being as quick and as effective.
"As more clients are undergoing liquid face rejuvenation and are increasingly more familiar with botulinum injectables, it is important to be able to have different products to work with. It gives me as a doctor, the ability to offer more customized treatments and the clients a better chance to get the results that he/she wants in the time frame that is most suitable," states Dr. Amy Perlmutter, the dermatologist performing injectable treatments at Sensitive Touch Medical Spa located in midtown Manhattan, New York.
Sensitive Touch Medical Spa complements their comprehensive treatment packages with promotional offers such as Botox Parties with discounted injectable services that are growing in attendance and popularity.