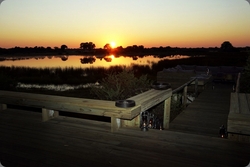 Botswana is a vast land of contrasting flora and fauna
(PRWeb UK) February 28, 2011
Traditionally a holiday destination that thrived on high yield and low impact, Botswana isn't famed for attracting the more budget conscious traveller. All that is set to change with a new series of affordable itineraries created by online travel company, Inspirational Travel.
Traditionally, Botswana's key tourist destinations, during peak season, have asked as much as USD $1,000 per person per night. Inspirational Travel, however, are now offering holidays to the region starting at just £1,200 per person. Managing Director, Steve Daykin explains; "Botswana is a fabulous place to visit, but previously this hasn't been possible for many individuals and families due to excessive pricing. And now, what with the economy forcing purse strings to tighten, holidays to Botswana have become seemingly beyond reach. However, we have worked diligently with our strategic partners to design exciting, affordable itineraries to suit those travelling on a more modest budget".
A typical Inspirational Travel holiday to Botswana consists of a 4-night safari, with 2-nights spent in the Delta at the Kanana Camp and 2-nights spent in Moremi at the Okuti Camp. The price of 1,200 includes shared accommodation, flights, game activities, all meals and drinks, laundry service, park entrance fee and game viewing activities and departure taxes.
Botswana is a vast land of contrasting flora and fauna. Landlocked between South Africa, Zimbabwe, Namibia and Zambia, its eco-system is unparalleled anywhere else in Africa. 17% of the land mass is dedicated to game reserves, and as MD, Steve Daykin points out, if you want to see nature in its most uncompromised state, Botswana is greatly suited. "With a population of only 1.3m, Botswana provides ultimate escapism, offering a break from the concrete jungle and a chance to connect with all the fruits of nature. From the breathtaking Okavango Delta, Moremi Game Reserve and the Kalahari Desert, to the salt pans of Makgadikgadi and the swamps and flood plains of the Chobe River, Botswana is simply stunning, and now accessible for all".
For those with a tad more cash to spare, Botswana can be combined with visits to the surrounding regions, with many choosing some idyllic beach time in the Mauritius or Mozambique. Inspirational Travel tailor make itineraries to cater for varying durations and budgets.
Covered by savannah scrub and the dry, arid Kalahari sands, broken by the breathtaking Okavango Delta, the saltpans of Makgadikgadi and the swamps and flood plains of the Chobe River. Collectively these areas constitute a range of eco-systems unparalleled in Africa and are abundant in bird, plant and wildlife.
# # #