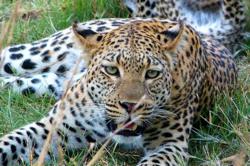 Today's sophisticated visitors to Africa are looking for very specific and detailed answers to their questions, and are overwhelmed by an information overload and inconsistency from a myriad of unverified sources. We step in to neutralize frustrations...
Allentown, PA (PRWEB) June 19, 2012
AfricanMecca Safaris, specialist Africa tour operator with reservation and planning offices in the US and Europe announced a comprehensive range of Botswana safari and Okavango Delta programs in its extensive portfolio of tour services. This comes after AfricanMecca Safaris made on-site inspections covering more than 60 camps and lodges in Botswana for a period of ten weeks assessing safety, safari activities, guiding standards, accommodation location correlation to wildlife concentration, logistics, cuisine etc. With such level of dedication, AfricanMecca Safaris has taken solid steps to ensure prospective clients and its network of agents are offered factual advice and in depth specialized logistical and accommodation planning to ensure the best services and experiences ever possible. AfricanMecca specialist safari planners emphasized the importance of having service professionals with local knowledge on the best locations and camps to stay at in correlation to higher wildlife concentration as well as expert safari planning advice to attain a well-rounded and successful safari experience.
Raza Visram - Operations Director at the family-run African outfitter is optimistic of the turnaround of the global economy in 2012 and insists that any investment in product knowledge and development is crucial for any company's success. "Today's sophisticated visitors to Africa are looking for very specific and detailed answers to their questions, and are overwhelmed by an information overload and inconsistency from a myriad of unverified sources i.e. personal opinions on a single traveller's one time experience who may never return back to Africa or 100's of duplicate and redundant website pages from standard marketing information where the publisher or web site owner has never been to all the camps, lodges or to the safari parks being advertised. These visitors do not want to take a chance of planning and experiencing a once in a lifetime trip or a special occasion vacation based on such information. Brochures, photos and marketing information do not cut it. This is where we step in to neutralize their frustrations by offering unbiased safari planning advice as we are not affiliated to any specific camp nor have ownership interests in them."
AfricanMecca Safaris has highlighted all of Botswana's tourism destinations and activities as well as the special attractiveness of the country's safaris experiences in a dedicated web site to ensure that real-time information is available at any given time of the day. Botswana is blessed with the Okavango Delta, the largest inland delta in the world. Known as the jewel of the Kalahari, it offers a complex network of waterways that provides visitors opportunities for unique water-based activities on-board traditional mokoro canoes, boating safaris and relaxing sunset cruises as well as fishing. In northern Botswana, hundreds of thousands of elephants roam Chobe, Botswana's first national park. Since wildlife movements are seasonal based on migratory patterns, AfricanMecca offers prospective clients accurate information to guide their choices according to their preferences. Other activities include walking and traditional vehicle safaris in both day and night to maximize encounters with different wildlife species.
To protect the environment and promote sustainable development, Botswana policy favours low visitor volume at a premium cost in return for visitors to experience game viewing, birding and photographic Botswana safaris at its purest and most exclusive form away from the crowd of tourists. High quality accommodations with personalized services are the norm. Rooming capacity is kept small at an average of 8. As such, attention to detail to guest preferences can be expected by all visitors. Visram further affirms that "AfricanMecca Safaris has partnered with all camp and lodges owners in Botswana so it can offer a diverse and boundless choice of safari accommodations and experiences in the Okavango Delta, Moremi, Linyanti, Selinda, Makgadikgadi, Central Kalahari, Mashatu combined with a beach extension to the Indian Ocean Islands."
As Botswana is surrounded by countries with their own world-famous safari and tour destinations, AfricanMecca invites visitors to take the opportunity to combine tours throughout Africa to Victoria Falls in Zambia or Zimbabwe when visiting Chobe, Cape Town or Kruger safari in South Africa or perhaps extend the trip to Eastern Africa for a safari in Masai Mara or Serengeti ending at the spice island of Zanzibar.
AfricanMecca has scooped up a number of important accolades from Tanzania Tourist Board Award to National Geographic Adventure Magazine's selection of Best Adventure Travel Companies On Earth with a superb customer satisfaction rate of 96.67%.
About AfricanMecca
AfricanMecca is a natively owned Africa Destination Management Company with professional tour planning and reservation partner offices in the United States, United Kingdom and ground operations team in Southern and Eastern Africa serving travel agents and clients throughout the world. AfricanMecca is a TOP Operator Member at American Society of Travel Agents (ASTA), one of less than 90 Elite Tour Providers in the World & Africa's Specialty Tour Operator. More information on Africa safari, vacation tours and holiday destination guide to Tanzania, Zanzibar, Kenya, Zambia, South Africa, Botswana