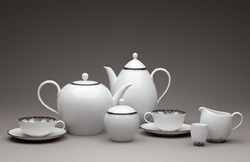 New York, NY (PRWEB) April 14, 2010
Bottega Veneta presented a luxurious and wide-ranging collection of new furniture and items for the home this week at the 2010 Salone del Mobile. The annual furniture exposition was also the occasion for an unusual and exciting week of events celebrating Japanese design and craftsmanship, all hosted at the dazzling new showroom of the celebrated luxury goods brand.
"This was an especially inspiring Salone del Mobile for Bottega Veneta," said Creative Director Tomas Maier. "We wanted to shift the perspective a bit, to explore new ways of looking at design by bringing together design and craft from Japan with our own new designs and the extraordinary work of our student competition winners."
Student Design Competition
At a private event held in the showroom on April 13th, Bottega Veneta unveiled three winning designs of the student design competition it sponsored in collaboration with the prestigious University of Tokyo. The student winners, Kentaro Fujimoto, Shima Suzuki, and Ayami Takada, were present to explain their work to the press. The culmination of more than six months of work, these designs are utterly unique, designed and produced by an extraordinary collaboration between the talented design students of the University of Tokyo and Bottega Veneta's master artisans in Vicenza.
Exhibition of Japanese Crafts
Visitors were able to visit an exhibit of Japanese crafts produced by 11 accomplished artisans working in some of Japan's most treasured and traditional crafts. The exhibit was co-curated by Tomas Maier and Seiichi Kamei, editor-in-chief of the prestigious design and architecture magazine Casa Brutus. The artisans, many of them not yet well-known outside their own country, exemplify the vitality and contemporary sensibility that animates so much Japanese craftsmanship today.
Pop-Up Store
To add yet another dimension to the experience, Bottega Veneta opened a pop-up store on the fourth floor of the showroom so visitors could take home a memento of their visit. The store, which was open only for the duration of the exposition, featured a selection of special ítems from Japan, most not readily available anywhere else in the world. There was also a collection of Bottega Veneta products designed exclusively for the occasion by Creative Director Tomas Maier.
New designs from Bottega Veneta
At the heart of it all were Bottega Veneta's furniture and home goods designs. There was more to see this year than ever before, from refined tables sheathed in intrecciato leather to sleek, inviting additions to the META seating collection and mirrors wrapped in luxe intrecciato python. There were also new furniture colors, long-awaited porcelain pieces, opulent cashmere blankets, and the launch of sterling silver flatware. "We're very pleased with the evolution of the furniture and home collections. They have grown substantially, allowing us to offer more choices and a fuller range of functionality," says Creative Director Tomas Maier.
Bottega Veneta
Discretion, quality, and craftsmanship–Bottega Veneta has created a new standard of luxury since its founding in Vicenza, Italy, in 1966. Steeped in the traditions of Italy's master leather craftsmen and long celebrated for its extraordinary leather goods, Bottega Veneta has recently emerged as one of the world's premier luxury brands. The company's famous motto, "When your own initials are enough," expresses a philosophy of individuality and confidence that now applies to a range of products including women's and men's ready-to-wear, handbags, furniture, items for the home, fine jewelry, eyewear, and more.
###