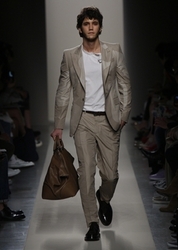 New York, NY (PRWEB) June 21, 2010
Milan, Italy [PRWEB] June 20, 2010 – Bottega Veneta presented its Spring-Summer 2011 Men's ready-to-wear collection in Milan today, continuing its exploration of the space in a man's wardrobe between casual and formal. The collection is breezy but focused, balanced between the technical rigor of athletic apparel and the refined technique of classically tailored men's wear.
"We started from tailoring, because that is what defines a silhouette," says Bottega Veneta Creative Director Tomas Maier. "From there, the options are endless. It becomes a question of personal style."
Spring's silhouette is boxy and fluid, with cropped jackets and full, pleated pants. The palette is broad and intricate while pattern is subtle, rendered in washed hues and a small scale. Materials range from the classically luxurious to newer, technical fabrics, all with an airy, open feel - fine, washed leathers are especially prominent. Shoes are jaunty and bold, designed for easy movement, while the season's bags are functional and unpretentious, made of rustic, darkened leather that's creased and grainy. Note the new expandable styles, with zippers that take the bag from regular to extra-large.
"The collection is about performance and possibility," continues Maier. "It's about what happens when you combine materials and techniques in new ways."
Bottega Veneta:
Discretion, quality, craftsmanship - Bottega Veneta has created a new standard of luxury since its founding in Vicenza in 1966. Steeped in the traditions of Italy's master leather craftsmen and long celebrated for its extraordinary leather goods, Bottega Veneta has emerged as one of the world's premier luxury brands. The company's famous motto, "When your own initials are enough," expresses a philosophy of individuality and confidence that now applies to a range of products including women's and men's ready-to-wear, fine jewelry, furniture, and more.
###