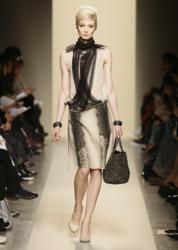 (Vocus/PRWEB) February 26, 2011
The Bottega Veneta Fall-Winter 2011/2012 palette is vivid and bright, grounded in the lustrous white of Canova plaster. Colors range from pale yellow to deep red and include jasper, topaz, resina, fire opal, corniola, garnet, and rust, illuminated with flashes of peridot green. The silhouette is measured and gentle, a single line that starts from a soft shoulder and finishes in a slight A. Last season's imperceptible tailoring has evolved, more conspicuous now in skirt suits topped with narrow anoraks or light coats. The collection encompasses a broad range of materials, from fuzzy woven wool blends to plush, dimensional woolens, waxed leather, and light sleek nylons and silk. In all cases the focus is on the surface, which is transformed with fabric overlays, enhanced with embroidery, and obscured with overprinting.
Handbags are sporty and relaxed in shape, elaborately hand-worked in construction. Mixes of material add to the eccentric effect, illustrated, for example, in a satchel made of acid-rinsed silk velvet, hand-painted python, and washed ostrich. Shoes are similarly minimal in shape and extravagantly crafted, as in sandals with high, skinny heels that have been printed, hand- painted, or adorned with lace.
Jewelry offers a mix of scale, technique, color, and mood. The jewelry, mostly small and delicate, is made from blackened silver with black and champagne colored stones. There are cuffs and necklaces made of silver lace, and earrings, bracelets, necklaces, and rings adorned with "painted" eyes—the image is achieved using a dye-sublimation technique--that have a surreal edge. Fine jewelry is also dark but richer and more intensely colored. The pieces, set in yellow gold with a black finish, feature unusually faceted stones that range in hue from faded pink to burnished orange, including morganite, madeira citrine, fire opal, gold citrine, and palmeira citrine. This is the first time Bottega Veneta has used colored stones other than diamonds in its fine jewelry.
"Designing this collection was like being in a laboratory," says Creative Director Tomas Maier. "We wanted to push the boundaries, to experiment with technique and craftsmanship to an extreme degree. I felt the right canvas for this kind of innovative workmanship was a silhouette that was clean and uncomplicated. The result is very particular, with a mix of control and passion that I think reflects the mood of the moment."
For more information, please visit bottegaveneta.com | |
Discretion, quality, and craftsmanship — Bottega Veneta has created a new standard of luxury since its founding in Vicenza in 1966. Steeped in the traditions of Italy's master leather craftsmen and long celebrated for its extraordinary leather goods, Bottega Veneta has recently emerged as one of the world's premier luxury brands. The company's famous motto, "When your own initials are enough," expresses a philosophy of individuality and confidence that now applies to a range of products including women's and men's ready-to-wear, fine jewelry, furniture, and more.
While Bottega Veneta continues to grow, the qualities that define it are unchanging: outstanding craftsmanship, innovative design, contemporary functionality, and the highest quality materials. Also constant is Bottega Veneta's commitment to its ateliers, where artisans of remarkable skill combine traditional mastery with breathtaking innovation. Indeed, there is an unusual and inspired collaboration between artisan and designer at the heart of Bottega Veneta's approach to luxury, symbolized by the house's signature intrecciato woven leather. In the summer of 2006, in recognition of the importance of artisanal craftsmanship and the fragility of this traditional way of life, Bottega Veneta opened a school to train and support future generations of leather artisans.
The most recent chapter in Bottega Veneta's history began in February 2001, when the company was acquired by Gucci Group. Creative Director Tomas Maier came on board in June of that year and presented his first collection, Spring-Summer 2002, to immediate critical acclaim. From the start, the house's sensibility was refined, sensuous, and intensely personal, designed for a customer who is sophisticated and self-assured. Gucci Group was acquired by PPR in July of 2004. In the years since, Bottega Veneta has introduced exciting additions to the collection, including fine jewelry, a new watch, furniture, and home accessories, while continuing to offer an exclusive and coveted assortment of ready-to-wear, handbags, shoes, small leather goods, eyewear, luggage, and gifts.
Distribution of Bottega Veneta products is global, encompassing Europe, Asia, North and South America, where wholesale distribution in select specialty and department stores is complemented by a growing number of Bottega Veneta-owned boutiques. These boutiques, designed by Tomas Maier and meticulously constructed to Bottega Veneta's exacting standards, allow the customer to shop in complete luxury, privacy, and comfort. They are, like the products they showcase, a reflection of Bottega Veneta's exceptional heritage and superlative quality.
# # #