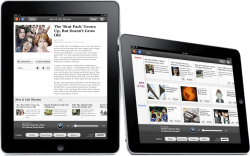 Bottle Rocket enabled NPR to be ready at the gate when the iPad launched, with a full-screen experience beautifully assembled for the iPad.
Dallas, TX (Vocus/PRWEB) December 10, 2010
NPR's news and music apps for iPhone and iPad, developed for NPR by Bottle Rocket Apps, have snagged recognition by Advertising Age with a 2010 Media Vanguard Award for the Best Broadcaster iPhone/iPad/Android Apps.
The award, announced at Advertising Age's 2011 conference in New York, recognizes NPR's reputation as a leading news and music source in the mobile media sector. Advertising Age created the Media Vanguard Awards to honor transformative, next-generation media. The awards, bestowed for the first time this year, drew hundreds of entries from major media companies (broadcasters, newspapers, magazines and digital natives) and marketers.
iPhone and iPad Apps Transform NPR's Broadcast Business
A staggering 40% of NPR's internet traffic can be traced back to its mobile platforms. Bottle Rocket partnered with NPR to provide strategic concept, user interface design and application development for NPR News for iPhone, NPR for iPad, and NPR Music for iPhone.
NPR's apps craftily expand on their already thriving website, providing the end-user an interactive experience for consuming content and streaming associated stations. The NPR News for iPhone app, first launched in 2009, alone drives 20% of all NPR online pageviews and, according to Advertising Age, "provides a top-class experience" for users on the go. Advertising Age termed the sister NPR Music app, launched in the spring of 2010, a "runaway success". That app offers an extensive library of music tracks and streaming audio, and allows users to customize their listening experiences with saved playlists.
When Apple launched the iPad this past April, Bottle Rocket enabled NPR to be "ready at the gate, offering a full-screen experience of everything it has to offer on the web, beautifully assembled for the tablet," according to Advertising Age.
"NPR's move to frontline the digital sphere with new concepts and technology-driven innovation has completely transformed the traditional consumer expectation of broadcast," said Calvin Carter, president of Bottle Rocket Apps. "We are honored to have been NPR's partner on the journey to winning this prestigious industry award," he added.
About Bottle Rocket Apps
Bottle Rocket Apps (http://www.bottlerocketapps.com) is a full-service mobile app development firm, focused on creating mission-critical, premium brand experiences for the Apple iPhone and iPad. In just over two years, Bottle Rocket has completed over 40 iPhone and iPad apps for leading brands such as NPR, Disney, ESPN, The Seattle Times, American Express and AARP. The company's apps have won numerous industry accolades for innovative and user-centered design, and frequently appear at the top of their categories on the iTunes App Store. The Bottle Rocket team of senior strategists, architects, developers and artists work their magic from the company's offices in Dallas, Texas.
# # #