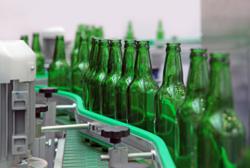 Leesport, PA (PRWEB) May 21, 2013
In conjunction with the ongoing preventative maintenance program, Berks Plant Design is now offering complete detailed analysis of existing bottling lines. This new service provides insight into bottling line slowdowns and finds solutions to optimize efficiency. Berks supplies equipment that will record downtime and slowdowns. At the end of each day a paper chart is produced by the supplied devices, which then gets faxed to the preventative maintenance department. After a week, the collected data is analyzed and the client sits down with the project manager to discuss the findings. This program will improve the efficiency of any bottling line in use today.
The two big trends in bottling lines today are high speed lines processing 300 plus bottles per minute and much smaller more flexible lines driven by the LEAN philosophy of manufacturing. Today's large scale lines are driven by the bottled water industry. These lines require many pieces of equipment and long lines to handle the sheer number of bottles required. In addition, these lines are fed by either a depalletizer for vendor supplied materials or a blow molder for bottles being produced directly from the raw materials. Because plastic bottles are unstable and top heavy, container control is critical. Bottles are general conveyed with air pressure and the neck ring used for stability. These lines require a great deal of time to be changed over, so it is best to keep changes to a minimum. The LEAN inspired bottling lines are very flexible and can be changed quickly without using any tools. With no accumulation equipment, the lines have a much smaller footprint.
Analysis and maintenance are critical pieces to running a productive line. With the new program, Berks will pinpoint problem areas and provide solutions for a more efficient setup. However, ongoing maintenance must be part of an overall plan to minimize downtime and keep the lines running at full capacity. Having a comprehensive maintenance program will provide long range data to continually improve efficiency and minimize failure. Monthly maintenance is best for bottling lines that are in use on a daily basis and can be scheduled according to run time if the line is used less often. In addition, the operator should perform a visual inspection daily. Any issues should then be logged and the maintenance team apprised of potential issues.
The overall equipment effectiveness is calculated as availability (operating time/planned production time) x performance (ideal cycle time/(operating time/total pieces)) x quality (good pieces/total pieces). Each piece separately as well as the total number gives insight into the line efficiency. With long term monitoring trends can be seen. The new program will immediately target problem areas and the long term monitoring through the preventative maintenance program will continually improve efficiency.
Berks Plant Design and Maintenance, Inc. has been serving customers since 1981. Offering an extensive inventory of used manufacturing and bottling equipment in conjunction with knowledge and experience, Berks can handle any conceivable situation. Berks also boasts two full machine shops, spacious test facilities, and full in house AutoCad design capabilities for CAM manufacturing. For more information about Berks Plant Design and Maintenance, Inc. visit http://www.bpdm.com or call 610-916-0666.