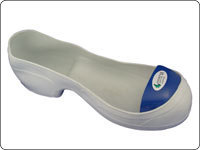 We are proud to be an official Wilkuro distributor and have dedicated resources to helping ensure this quality product reaches a wider market
Toronto, Ontario (PRWEB) July 22, 2009
Bottomline Safety Inc., a distributor of reliable, high-quality, North American made personal protection equipment at a fair price, today announced that the premium quality, extremely affordable Original Wilkuro Safety Toes, Wilkuro Pink Safety Toes, and the newest Wilkuro White Safety Toes for clean rooms are available for purchase online on its website.
Designed for temporary toe protection, these Wilkuro branded color-coded steel toe-guards are encompassed into a slip resistant, durable PVC overshoe, which allows all people passing through a plant or other area, where safety shoes are needed to have required toe and slip protection without hygiene, noise or safety concerns common in competing products.
Wilkuro Safety Toes have been on the market since 1985, are manufactured in North America in an ISO 9001 quality controlled facility, have passed numerous safety tests including: ASTM International (ASTM F 2412-05), ANSI Z41 PT91 Class 75 and are accepted by OSHA. The product also has a comprehensive chemical resistance chart available.
"We are proud to be an official Wilkuro distributor and have dedicated resources to helping ensure this quality product reaches a wider market," said Bottomline Safety's founder, Kathleen Reed. "We believe we can do this at an affordable price that will be helpful to companies as they begin their economic turnaround and individuals as they require cost-effective, comfortable safety footwear for temporary work."
John Wilson, senior partner of Wilkuro says, "We are confident in the ability of Bottomline Safety to help bring the word of our longstanding, quality product to the market."
About Bottomline Safety Inc.:
Bottomline Safety Inc. is a wholly owned subsidiary of BigVox Marketing, and is committed to providing high quality, cost-effective, safety solutions "from the ground up". We believe that safe work solutions are integral to a strong bottom line. Based just north of Toronto, Ontario, Bottomline Safety and its website http://www.toeprotection.net brings cost-effective safety products to the masses. Please visit http://www.bottomlinesafety.com for additional information.
About Wilkuro Safety Toes:
Wilkuro Safety Toes provides occasional toe protection at an affordable price. The Wilkuro Safety Toe is an alternative to steel toe shoes for casual or temporary workers, salespeople, executives, or any other person who enters an area where toe protection is required. Founded in 1985, Wilkuro Safety Toes Inc. of Concord, Ontario has focused on toe protection since its inception. The company sells exclusively to a global network of distributors and its products can be found in use at many Fortune 500 companies, including: Procter and Gamble and Ford, and by staff at retailers, such as Wal-Mart. The Wilkuro® brand safety toe has been accepted by the US Department of Labor's Occupational Health and Safety Administration; it passes the ASTM 2413-05 impact and compression requirements; ANSI's Class I/75 and Class C/75 toe compression and toe impact requirements; and the European Union's SATRA testing for CE marking. For supporting documents and test statistics, see http://www.wilkuro.com. Wilkuro Safety Toes is an ISO 9001: 2000 registered firm.
Wilkuro Safety Toes and the Wilkuro logo are trademarks of Wilkuro Safety Toes Inc. Bottomline Safety and Toeprotection.net are trademarks of BigVox Marketing Incorporated All other trademarks are the property of their respective owners.
###