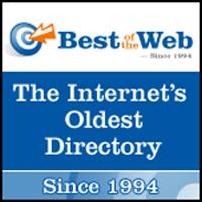 There is a lot of power in the name bestoftheweb.com
Uniondale, NY (PRWEB) December 15, 2006
Best of the Web, located online at BOTW.org since 1994, has recently acquired the highly-prized domain name bestoftheweb.com. In an ongoing effort to expand intellectual property and strengthen its' online brand, Best of the Web procured a top Internet address to help bring in 2007 in style.
Effective immediately, all Best of the Web offerings can now be accessed through the Bestoftheweb.com domain. Users need not worry though - the web directory, blog directory, and verticals directory will still reside at the famous BOTW.org domain.
"There is a lot of power in the name bestoftheweb.com," says Greg Hartnett, president of Best of the Web. "We believe that over a short period of time, the name bestoftheweb.com will become a well-recognized brand name. When people are looking for quality search results, we expect that they will turn increasingly to bestoftheweb.com."
Brian Prince, Best of the Web CEO, adds " The recent purchase of the bestoftheweb.com domain name was another feather in our cap. Using the acronym BOTW, we have encountered some domain confusion in the marketplace, and this acquisition should really help in strengthening our brand recognition as Best of the Web. As we continue to expand our marketing efforts, it helps tremendously to have an easily recognizable and memorable domain name."
A comprehensive, searchable directory that promotes a better online experience by recognizing and categorizing the best of what the Internet has to offer, Best of the Web generates more than 2 million page views every month. By focusing on quality sites, BOTW can repeatedly deliver relevant information to users, free of the spam found on so many other search platforms.
BOTW relied upon the expertise of Moniker.com for the domain acquisition. "It was an important purchase for us and we wanted the assistance of a market leader" says Brian Prince. "You don't go shopping for Park Avenue real estate without the help of a broker".
About BOTW
The Internet's oldest directory, Best of the Web got its start in 1994 by empowering the burgeoning online community to nominate and vote for best-of-class websites in a variety of categories. As the Internet grew in popularity, Best of the Web evolved into a comprehensive directory categorizing content-rich, well designed websites. Today, Best of the Web offers a full suite of services including the web directory, blog directory, and enterprise software directory. For more information on the Internet's oldest directory, visit bestoftheweb.com.
###