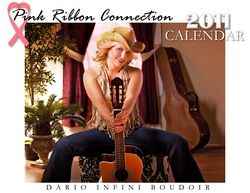 I have often marveled at what a therapeutic experience a boudoir photo session is for my customers. And it occurred to me that my special skill in bringing out the most feminine qualities in ANY woman, and making her feel beautiful and valued might be a special gift to a breast cancer survivor
Indianapolis, IN (Vocus) May 7, 2010
Dario Infini saw a chance to give back to the community, using his talents as a professional boudoir photographer, and turned it into something special. His preliminary photo shoot for the Pink Ribbon Connection's Breast Cancer Survivor Calendar featured 12 women, who survived their battle with the deadly disease.
"I have often marveled at what a therapeutic experience a boudoir photo session is for my customers. And it occurred to me that my special skill in bringing out the most feminine qualities in ANY woman, and making her feel beautiful and valued might be a special gift to a breast cancer survivor," said Dario Infini.
The calendar, which is set to release in October of 2010, features 12 stunning, radiant, and strong women who took their battle with breast cancer head on and came out on top. The calendar is a testament to their bravery and beauty and can serve as inspiration to women who are engaged in a struggle of their own. The boudoir photography style was chosen for the calendar because it highlights the most intimate and sensual sides of the women, proving that no disease can ever take away a woman's femininity and sexuality.
Shooting the calendar was a large success, with all of the women raving about the process. The chance to be pampered and feel like a supermodel for a day brought out the sensuous sides of the women, which is exactly what makes a boudoir photo shoot a success.
Partnering with the Pink Ribbon Connection was an easy choice for Dario. The organization is based out of Indianapolis, and provides support services and networks for the medically underserved. Along with financial support, the organization also provides support groups and resources for women and their families. For more information on the Pink Ribbon Connection, visit http://www.pinkribbonconnection.org.
For more information about Dario and his services, please visit http://www.DarioInfini.com. He is currently booking placements for boudoir photography shoots nationwide, along with his local studio in Indiana. For more information about the cities and dates of the tour stop, please visit http://www.darioinfini.com/tour.html
###