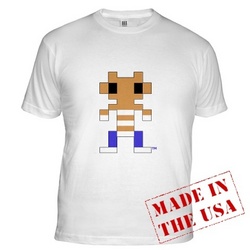 It's a real thrill to be involved in the ongoing process of bringing Boulder Dash to life on T-shirts and gifts
Chappaqua, NY (PRWEB) July 31, 2009
First Star Software, Inc., well-known veteran games developer and publisher established in 1982, has opened an online apparel and gift store for fans of its most famous title: Boulder Dash®.
The Boulder Dash store, launched today, was opened as part of the game's 25th anniversary celebrations. Original characters from early games in the best-selling, award-winning Boulder Dash series are joined by new creations based on the star of the games, Rockford™, as well as other in-game elements: Butterflies, Fireflies, Diamonds and Boulders.
First Star Software's president, Richard M. Spitalny, said: "With millions of units of Boulder Dash having been sold since its initial release in 1984; and with recent versions on Apple's iPhone/iPod touch; other SmartPhones; Nintendo's WiiWare C64 Virtual Console; and Windows and Mac, the online storefront allows us to offer Boulder Dash fans the sorts of merchandise that heretofore has only been available on a very limited basis and only as promotional items."
A lifelong Boulder Dash fan, with just the right experience, brought his ideas for a store at a time when First Star Software was itself exploring various merchandising options, including third-party licenses. Ashley Cotter-Cairns, editor and publisher of Tee-Shirt-Ideas.com, first played the game on the Commodore 64 during high school in the mid-1980s and is responsible for creating the store and its product line-up, in close co-operation with and approval by First Star Software.
"It's a real thrill to be involved in the ongoing process of bringing Boulder Dash to life on T-shirts and gifts," Cotter-Cairns said. "Rockford has tremendous appeal. He's truly a character, not just an anonymous bunch of pixels, and I know other lovers of retro gaming will join me in proudly pulling on a Boulder Dash T-shirt!"
First Star Software chose to host its store on the popular CafePress website, a platform with great variety and a lot of trust within the online shopping community. "People know and trust CafePress to deliver quality product in a quick timeframe, with unparalleled customer service," Cotter-Cairns commented. "Basing the store there was an easy decision."
As of today's announcement, retro gamers and other fans will be able to access the 'all things Boulder Dash' online store, with links from First Star Software, as well as numerous co-publishing partners including: Chillingo, Ltd./Clickgamer, Magmic Games; DotEmu/EasyRetro; Solware/FlyOrDie; and ZX Games.
Boulder Dash® is a registered trademark of First Star Software, Inc. Rockford™ and his likeness are trademarks of First Star Software, Inc.
###