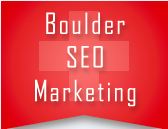 Hiring top online marketing experts allows our agency to keep up with the steady growth we've experienced in 2012.
Boulder, Colorado (PRWEB) November 26, 2012
Boulder SEO Marketing, an internet marketing agency providing search engine optimization (SEO) and social media consulting services, today announced the newest additions to their creative marketing team. Jen Battista recently joined the agency as Account Director and will be leading up client services on marketing strategy. Battista brings over 10 years of industry experience in the natural food and outdoor industries to the Boulder, CO based internet marketing firm. Greg Noonan will oversee the company's content marketing and link development initiatives to drive growth and maximize the visibility of customers' website, blog, and social media content across the internet.
"I'm thrilled to welcome Jen and Greg to our growing team of internet marketing experts and search engine optimization and social media consultants," said Chris Raulf, President & Founder of Boulder SEO Marketing. He adds, "Hiring top online marketing experts allows our agency to keep up with the steady growth we've experienced in 2012, and to continue to provide the quality work our customers expect from us."
Prior to coming to Boulder SEO Marketing, Jen Battista has worked as marketing manager in the natural food and gluten-free industry where she worked on events, promotions, advertising, and campaign strategy. Jen has also served as marketing manager at Crocs, positioning the brand in the outdoor industry, Vail Resorts where she helped launch an exclusive ski club, and Action Marketing Group where she promoted brands in the outdoor and natural food industry.
Greg Noonan, a graduate of the University of Colorado at Boulder, is a creative strategic thinker and master of the written word. He brings with him a background in technical writing having worked as a research scientist at CIRES, a University of Colorado coop within the US Department of Commerce and NOAA. Gone are the days of proposal writing, journal articles, and government grant submissions. As a results-driven project leader, Greg looks forward to the new opportunities and challenges ahead of him.
About Boulder SEO Marketing (http://www.boulderseomarketing.com/)
Boulder SEO Marketing, a division of Froggy Marketing, LLC, assists Boulder and Denver area businesses with all of their search engine optimization (SEO), search engine marketing (SEM), social media and marketing consulting needs. Our goal is to empower small and medium sized businesses to be able to plan and execute a scaled, successful, internet campaign that will increase a company's visibility in search engine listings and help drive qualified leads to their website.
Follow Boulder SEO Marketing on Twitter at http://www.twitter.com/MarketingSEOWiz, on LinkedIn at http://www.linkedin.com/company/boulder-seo-marketing, and on Facebook at http://www.facebook.com/BoulderSEOMarketing.