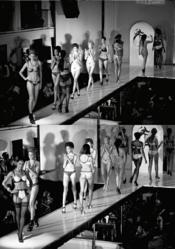 BOULEVARD3 has always been and continues to be the chosen playground for Hollywood's most glamorous events, fashion shows, and concerts.
Hollywood, CA (PRWEB) April 04, 2012
Playmates of Hollywood will be debuting their new Summer 2012 lingerie lines at Hollywood hotspot BOULEVARD3 this Friday, April 6th at Midnight. This is a one-of-a-kind fashion show, where the standard 5'11 emaciated runway models will not be found. This show features actual Playmate models to properly fill out the designs that are hand selected to reflect the Playmates of Hollywood body and spirit. The highlight of this year's fashion show will be a rotating Amsterdam boudoir that will showcase the models in seductive poses against a video wall backdrop. Playmates of Hollywood is an exotic clothing store located on the legendary Hollywood Boulevard. Playmates is renowned for selling the sexiest and most risqué lingerie designs coveted by Hollywood starlets and Playmates alike. Playmates of Hollywood is offering free admission to the Fashion Show event for anyone producing a receipt from an in-store purchase from April 1st to April 6th.
The Fashion Show and Afterparty will be sponsored by GREY GOOSE vodka. Specialty cocktails and shots will feature the new GREY GOOSE flavor Cherry Noir. Cultivated from rare black cherries found in the French Basque Country, Grey Goose Cherry Noir combines the aroma of fresh cherries and sweet red fruits with dark fruit flavors and layers of spice. The result: a sophisticated, sensuous flavored vodka and exceptional complement to this very sexy night.
The Midnight Fashion show will feature a special performance by new Indie rap artist Dean Risko, who recently made headlines for being touted as "more talented than Mike Posner" with "more introspective lyrics and better vocals". Dean, frequently compared to Eminem, will be performing his new single "Trouble". The fashion show will kick off with a sexy dance performance by the BOULEVARD3 dancers, Theresa Jun Tao, Nika Kljun, Ashley McJunkin, and Larry Berry. In addition to performing each weekend at BOULEVARD3, all four performers can regularly be seen at home on television sets and videos. Theresa Jun Tao recently starred in Battle of Los Angeles, Ashley McJunkin is featured on the television show Borderline Cayotes, Larry Berry is one of the featured stars and krumpers in David LaChapelle's documentary film Rize, and Nika Kljun is a resident dancer on X factor, choreographs for Dancing with the Stars, and works for artists Beyonce, Jennifer Lopez, Ne-yo, and Pitbull.
BOULEVARD3 has always been and continues to be the chosen playground for Hollywood's most glamorous events, fashion shows, and concerts. BOULEVARD3 has a reputation for hosting events that fuse music and fashion to include the InStyle Grammy Party, Justin Timberlake Concert and William Rast Fashion Show, and Fashion Shows for Just Sweet by Jennifer Lopez, Sean John, House of Dereon by Beyonce, and Jessica Simpson. BOULEVARD3 is the coveted nightspot for Hollywood celebrities who regularly choose the venue to host their private soirees and get-togethers. Frequent guests of the club include Nicki Minaj, Jennifer Lopez, Lil Wayne, Ne-Yo, Drake, Rihanna, Chris Brown, Matt Barnes, Kobe Bryant, and Prince.
Red Carpet arrivals 10pm to 11pm. For talent request to attend contact Rebecca Slobig at rebecca(at)boulevard3(dot)com. For media credentials or event coverage, email your request to kim(at)boulevard3(dot)com or visit the website at http://www.boulevard3.com/.