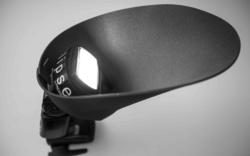 It's a simple device that can instantly improve your bounce-flash photography.
South San Francisco, CA (PRWEB) November 26, 2012
A new light shield improves bounce-flash photography by automatically blocking direct flash, preventing it from reaching the subject being photographed. The patent-pending device is about the size of a baseball cap and weighs approximately half an ounce.
Engineered and manufactured in Silicon Valley by PRESSlite, the eclipse light shield is the only device of its kind that protects the photographer's subject and surroundings from direct flash at virtually any position the flash head is pointed for bouncing light. This eliminates the need to adjust the device from shot to shot, unlike other similar products.
Many photographers don't realize that when they turn the flash head to bounce the light, they are still blasting direct flash at the subject being photographed. This in effect ruins the beautifully bounced light. The concept of flagging one's flash has been expertly demonstrated by world-renowned portrait, wedding and boudoir photographer, Neil van Niekerk, inventor of the famous "black foamie thing" (BFT).
Demos, further details and contact information are available online at http://www.maxbounce.com.
Headquartered in South San Francisco, California, PRESSlite is the manufacturer of the unique VerteX light modifier, which employs mirrors to redirect light.
# # #