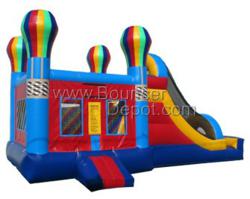 Commercial bounce houses from Bouncer Depot at wholesale prices.
Pacoima, CA (PRWEB) November 09, 2011
Bouncer Depot, commercial bounce house manufacturer, just enhanced their website through the addition of a comprehensive FAQs page. In addition to bounce houses, Bouncer Depot offers a comprehensive selection of inflatable slides, obstacle courses, inflatable jumpers and even custom design inflatables.
"Bouncer Depot is always searching for ways to enhance our customer's online shopping experience. In an effort to provide answers to our customer's most frequently asked questions, we have launched our new FAQs page as an addition to our already user-friendly website. The information provided is a compilation of questions received from customers over the past decade," said Steve Johnson, Bouncer Depot representative.
The FAQ section of any website is designed to answer common questions and to provide direction for online shoppers. Some of the information online shoppers can expect to find on the new Bouncer Depot FAQs page includes:

Directions on how to set up bounce houses, inflatable water slides and inflatable obstacle courses.
Directions for common bounce house repair and maintenance requirements.
Directions for bounce house cleaning after use.
Average cost information for bounce house rentals.
Answers to commonly asked financing questions.
Answers to common liability insurance questions.
Information about becoming a bounce house wholesaler or starting a commercial bounce house rental company.
Within just a few moments of scanning the new Bouncer Depot FAQs page, the majority of a customer's questions regarding the products offered should be answered. If not, customer service representatives are always available and eager to take calls.
Bouncer Depot, commercial bounce house manufacturer, offers the largest selection of bouncers, obstacle course, and inflatable water slides in the industry. Whether shoppers are looking to add some outdoor fun at their next at-home party or corporate event, they will be sure to find it at BouncerDepot.com.
Online shoppers can sort options by category type (bounce houses, obstacle courses, inflatable slides, inflatable games, water slides, and combo bouncers), or by price. Hundreds of inflatable options exist, covering virtually every party theme imaginable (castles, sports themes, carousals and pirate themes), all size requests (9x9 to 20x20) and fitting within every party budget ($500-$3,500+).
However, if online shoppers can't seem to locate the perfect party concept within the extensive Bouncer Depot inventory, they can contact a representative to discuss custom design options. Bouncer Depot accepts all standard forms of payment. Plus, financing options are available for qualified purchases.
To shop Bouncer Depot's extensive online selection or to review the company's new FAQs page, visit BouncerDepot.com.
About Bouncer Depot
Founded over 10 years ago, Bouncer Depot is now considered to be the industry leader in manufactured bounce houses. Using cutting edge technology, a strong design team and innovative design concepts, Bouncer Depot produces the largest selection of inflatable water slides, bouncers and obstacles available in today's marketplace. The company is proud to manufacture all products within the U.S.A. For more information about Bouncer Depot, please visit http://www.BouncerDepot.com.
# # #