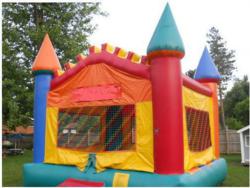 Unbeatable service remains our number one goal
Bronx, NY (PRWEB) January 31, 2012
After another successful year, New York Party Entertainment company Fiesta Bounce is expanding their business in 2012 with more products and services. What started out as a small bounce house rental service is now expanding to include green screen photography for novelty pictures, table and chair rentals, and a much wider selection of bounce houses and other inflatables than ever before. Owner Ken Modeste comments, "While we're expanding our business, unbeatable service remains our number one goal".
About a decade ago, bounce house rentals for private and home parties became an affordable option as it quickly became a popular choice for many entrepreneurs starting their own businesses. Soon it was common to see colorful bouncy castles in the front yards of homes in all kinds of neighborhoods all over the country. Ken is one such entrepreneur who came late to the party, but has something that sets him apart from his competitors.
The difference is the quality of their products and the quality of service, which is evident as their calendar fills up quickly with lots of referral business. Ken, owner of this family business. Modeste commented, "We are a family owned and operated company with 3 young sons of our own. We treat our clients as we'd expect to be treated, and understand that the safety of your children are the number one priority."
While many competitors try to get in the inflatable market with cheap low-grade nylon inflatables from overseas or even from big box retailers, Ken insists on only using the best commercial grade inflatables. The 18oz high strength vinyl can stand up to the punishment of hundreds of kids jumping on them week in and week out with ease. The bounce houses are also cleaned and sanitized after each and every rental.
After starting out with one simple "Bounce Castle" in 2010, Ken added more inflatables in 2011 including an 11 foot slide that doubles as a water slide on hot summer days. Fiesta Bounce is now excited about what 2012 has in store: A pink "Princess Bounce" for girls parties, a tropical palm tree bounce house for Hawaiian themed events, and a "Bouncy Boxing Ring" for teen to adult parties where they can have battles with huge over-sized boxing gloves.
All this will lead up to kicking off something really unique, green screen photography. This will allow party goers put on props like hats, glasses, and boas and pose in front a massive selection of backgrounds including landscapes, magazine covers, movie scenes and more through the wonder of chroma key green screen technology.
"Our clients are going to have a lot of fun this year", says Ken, "and so are we!".
About Fiesta Bounce Party Entertainment
Fiesta Bounce is owned and operated by husband and wife team Ken Modeste and Jennifer Antanios. For more information about Fiesta Bounce, call (914) 481-2686 for party entertainment rentals in New York City, Westchester County, Connecticut, and surrounding areas.
###