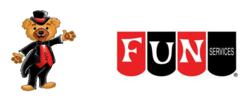 This unique in-school gift program allows students to choose and purchase inexpensive holiday gifts for their family members at the same time allowing them to keep the gift a secret until opened by the recipient
Sunnyvale, CA (PRWEB) November 01, 2011
Fun Services, a San Francisco non-profit fundraising company a party supplies and event planning company in the Bay Area, is accepting signups from elementary schools to run Santa's Secret Shop and Holiday Gift Shop programs. The program starts on Thanksgiving and will run through the school's winter break.
With Santa's Secret Shop and Holiday Gift Shop programs, Fun Services provides schools with everything they need for a successful event that their students can enjoy. The programs provide students with the opportunity to buy gifts for their family and friends in a safe and controlled environment. Most of the products listed in the programs are priced around $3.50 and are all on consignment so schools only pay for products students purchase.
"This unique in-school gift program allows students to choose and purchase inexpensive holiday gifts for their family members at the same time allowing them to keep the gift a secret until opened by the recipient," comments one PTA mom at Carson Elementary.
The shopping programs offer free delivery, re-order and pickup service. Other freebies include promo materials like flyers and posters, money envelopes and gift bags.
For more information on Fun Services, call 408-745-1976 or visit http://www.funservicesbayarea.com. Fun Services is located at 1262 A Lawrence Station Road, Sunnyvale, CA 94089.
About Fun Services
Fun Services is a family-owned party-supplies and event-planning company that has been servicing the San Francisco Bay Area since 1987. Fun Services specializes in school carnivals, church festivals, non-profit fundraisers, company picnics and private parties. They offer a variety of fun and exciting games, attractions and entertainment to fit any budget, including Bay Area carnival games and bounce houses. Fun Services is an exclusive supplier of the Santa's Secret Shop and Holiday Gift Shop programs for elementary schools.
###