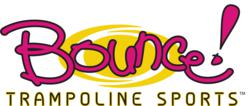 "What makes these courts unique is the ability bounce off the floors AND the walls! Jumping on a trampoline is a fun, healthy and invigorating workout," says Danny Fried, Co-Creator of Bounce! Trampoline Sports in Valley Cottage, NY
Valley Cottage, NY (PRWEB) November 01, 2011
Bounce! Trampoline Sports has scheduled a Grand Opening Celebration for Saturday, November 5th. The event, titled "Jump for Joy: The Joy of Giving", will be a fundraising opportunity for several of the area's most worthy non-profit organizations:

Child Care Resources of Rockland Inc.
Clarkstown Family Resource Center
People to People Inc.
United Way of Rockland County
The grand opening, scheduled from 10 am – 4 pm on November 5th, will offer individuals a chance to experience the new facility with 100% of the proceeds being donated to the four area groups. Those wishing to participate can register at the Bounce website (http://www.bounceonit.com) by clicking on the "RSVP Now" link where they can select the charity they wish to jump for on that day or by calling 845-268-4000. The cost for this special event is $10 per person per half hour of jump time.
As an added incentive, a big fan of trampoline sports has generously agreed to match dollar for dollar the amount raised that day, up to $5,000. The non-profit organizations will split the bonus based on the percentage of people who sign up to jump for their charity that day.
"We are very excited to introduce Bounce! to the local area and with this fundraiser we have the potential to donate over $20,000 to worthy organizations," states Danny Fried, co-creator of Bounce!
Bounce! offers the opportunity to play sports, have fun and get fit on enormous courts of interconnected trampolines. According to Fried, jumping on trampolines is one of the best physical workouts ever devised. It has been proven to tone muscles, burn fat, and reduce stress. The facility will offer fitness classes for all ages and levels, open jump time, trampoline dodgeball, slam dunk basketball, foam pit jumping and both individual and group trampoline training classes by qualified instructors. The unique complex also has private party rooms for birthday parties and corporate team building, a wi-fi lounge, a snack bar featuring all healthy snacks, and an arcade. There is also a separate Bounce! Jr. Zone where kids ages 7 and under can bounce on their own trampolines, jump into a separate foam pit or play in a giant inflatable castle.
While the fundraising event will take place from 10 am until 4 pm on November 5th – the official opening date for Bounce! – it will remain open through midnight as it launches its regular Friday and Saturday night schedule.
For more details visit their website (http://www.bounceonit.com) or become a fan of their Facebook page (http://www.facebook.com/BounceTrampolineSports) and follow them on Twitter at [http://www.twitter.com/bouncesport
Bounce! Trampoline Sports is located at 612 Corporate Way in Valley Cottage, NY off Route 303, just two miles north of the Palisades Center Mall. For questions call 845-268-4000.
BACKGROUND
After 25 years at the apex of Manhattan's nightclub scene, China Club co-founder Danny Fried has found a new calling in the burgeoning field of indoor sports and fitness. Aptly named Bounce!, Fried's enormous action-sports complex, consisting primarily of wall-to-wall trampoline courts, will offer patrons of all ages the opportunity to jump, play sports and get fit.
"What makes these courts unique," says Fried, "is the ability to not only bounce off the floors but off the walls as well. Jumping on a trampoline is a fun, healthy and invigorating workout; you can burn a thousand calories in an hour. What's more, since the year 2000 trampoline has become an official Olympic sport drawing more and more fans every day."
According to Fried and his co-creator Michael Gross, a Tappan native, the use of the trampolines has forever changed the nature of several sports. "Dodgeball, basketball and volleyball have been completely reinvented. Imagine the excitement of suddenly being able to slam-dunk a basketball!" At similar venues out west, both kids and adults line up day and night to play Trampoline Dodgeball, a phenomenon that has led to the formation of the NTDA, the National Trampoline Dodgeball Association.
In addition to recreational jumping, the facility will host sports leagues, trampoline-aerobics classes, trampoline training, and corporate team-building events. Birthday parties will take on a whole new level of fun and fitness at Bounce! offering a jumping session and then a separate party room for refreshments. Bounce! will also house a foam pit jump, an arcade, a healthy-food-only snack bar and lounge, a state-of-the-art sound system – and next door – a totally separate trampoline and inflatable zone, Bounce! Jr., for the youngest kids.
Fried intends to build several Bounce! locations throughout the metropolitan area. A bonus to the local Rockland County community will be the many job opportunities available especially for qualified aerobics instructors and gymnasts. Those interested in applying should send an e-mail to: info(at)bounceonit(dot)com. For more information, visit the Bounce! website at http://www.bounceonit.com.
###