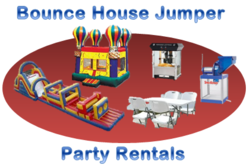 Very friendly and great prices. They really made our party a great success and I strongly recommend them!
Sacramento, CA (PRWEB) February 01, 2013
Bounce House Jumper Party Rentals has been delighting all ages with their colorful and fun inflatable party bounces and bounce house rentals Sacramento. Giving great discounts has been an ongoing action with Bounce House, as they always have Sunday specials. However, for wintertime fun and to inspire party givers and goers, winter specials add a new advantage – saving money.
Current winter discounts mean being able to rent a regular jumper for only $80 or getting a 2-in-1 or 3-in-1 jump house with slide for only $120. Shaving off some dollars is always a good thing in these tough economic times. Additionally, almost every one of the bounce and jump houses and inflatable party bounces have basketball hoops inside, which kids find irresistible. No extra charge for an exciting game of basketball in these jump houses.
A bounce house rental Sacramento event really appeals to the little ones. It is so much better than traditional parties sitting around a table, playing board games or having a go at pin-the-tail-on-the-donkey. This is a new age and kids need some real adventure. The owner of Bounce House Jumper Party Rentals says, "Kids really love jumping around on inflatable party jump houses. It is a safe and fun way for them to burn off some steam."
Birthdays are not the only events where bounce house rentals in Sacramento communities are popular. Church and school events, block parties, fundraising and charity events – anyone can get in the act and have kids jumping, sliding, laughing and meeting new friends in a unique way. Imaginations can run wild with the children, while parents are saving their hard-earned money with the winter bargains.
This family-owned company services residences, businesses, parks and churches throughout the Sacramento region. They set up and take down each unit they deliver, ensuring the jumper or bounce house and slides are carefully cleaned. Some of the inflatables they carry are the Hot Air Balloon Jump, Red or Pink Modular Bounce House, 2 in 1 Blue Red Castle Jumper Combo and the Sports Combo Jump. Each one is constructed safely and is certified lead-free.
Many party or event givers need more, and Bounce House Party Jumpers Rentals has it all. They can provide sno kone and popcorn machines, cotton candy machines, tables and chairs. The best thing is they do all the work for their customers, organizing the setup of the equipment and answering all questions that may come up. It's the only way to go when giving a party or event, and now the discounts make it all that much more inviting.
About Bounce House Jumper Party Rentals: Bounce House Jumper Party Rentals is a family-owned company, licensed and insured, that provides outstanding service to their customers, with safe and clean equipment for kids to enjoy. They service Sacramento, California and the Central Valley. Areas served include Elk Grove, Placerville, South Lake Tahoe, Stockton, Lodi and surrounding communities.
Contact: Bounce House Jumper Party Rentals
Telephone Number: 916-895-1508
Web site address: http://www.bounce-house-jumper-party-rentals.com/