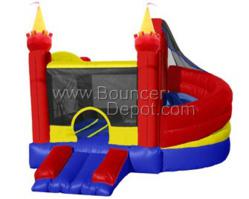 Commercial Bounce House
(PRWEB) May 19, 2011
Bouncerdepot.com, a leader in the sales of bounce houses, water slides, inflatable dry slides and more, has expanded its stock of commercial grade products to include custom products, just in time for the summer season. The customizable options will apply to many of their current offerings, including water slides, and will be offered for purchase with the accessories usually associated with their inflatable products, like blowers and patch kits.
"We're really excited for the next few months," says Bouncerdepot.com cofounder Steve Smith, "Our wide variety of choices along with custom-fit options is going to make this a fun season for us and our customers."
Tailored Bounce Houses to Customer Needs.
Originally established in 2001, Bouncerdepot.com has built a reputation as an affordable wholesaler and manufacturer of inflatable bouncers and slides. The Pacoima-based company has grown their business with the sterling quality of their commercial-grade products, a strong customer service department, and a 3-year warranty offered on each product sold.
With an established presence as a trusted retailer in place, Smith and his team at Bouncerdepot.com decided to undertake customized options in direct response to their customers' needs. They had received a lot of feedback from customers citing the difficulty of finding the perfect option from the pre-made options on the website.
"We noticed that a lot of our pre-made bounce houses and slides weren't always a perfect fit for every customer or family," says Smith. "Sometimes they were too big, or maybe the customer was not happy about the design. We made the decision to incorporate custom-built water slides and bounce houses to make sure that every customer could get what he or she needed."
The new custom inflatable water slides and jumpers for sale will allow customers to tailor the size, color, and design of their bounce house or slide to exactly suit their tastes and their family's needs. Everything from a small princess bouncer to an adult-sized water slide will be available for customers to tailor and detail. The slides and bouncers will work in even the most limited yard space and are in keeping with industry-standard safety requirements. Additionally, asserts Smith, the customized inflatable bounce houses will be of the same high quality workmanship customers have come to expect from Bouncerdepot.com's commercial water slides, wholesale jumpers, and wholesale bounce houses.
"We don't want to let anyone down," says Smith, "Our customers expect commercial grade bouncers and they will get that with these custom-built options, too."
A Healthy Alternative
Smith sees his business as not just a matter of "fun". He cites an important, secondary goal to him and his coworkers in the manufacturing and selling of bounce houses and slides: providing customers with a fun, healthy, outdoor activity, something he thinks is missing in a lot of families these days.
"One of the things that makes me proudest about our company," says Smith, "is that we get everyone outside and having fun. So much is indoors sitting in front of a TV or computer these days. Our products get families out in the fresh air and enjoying themselves with real quality time."
Bouncerdepot's products are not just for kids, either, but incorporate and engage the adults in a family, as well, says Smith. The business focuses on the needs and wants of the entire family unit. "A lot of adults enjoy our slides, for example," Smith states, "We really provide something for everyone in the end. That's important to us."
Looking Forward to the Future
With the new custom options ready to go and the warm weather on the way, Bouncerdepot.com is looking forward to a great summer season. Smith and his team also have additional plans in the works to supplement their current offerings in the coming year, including a potential site re-design and re-launch, the development of enhanced accessory kits, and the introduction of more new products for children and adults alike.
For now, the team at Bouncerdepot.com is excited to see the results of their new customized solutions over the coming months. Delivering the right answers to customers has always been a priority for Smith and his team at Bouncerdepot.com.
"We're excited to offer customers some flexibility," says Smith, "We're always about getting people what they want. This will be a great way to do it."
To take a look at Bouncerdepot's new customizable bouncers and jumpers or their wide range of commercial and wholesale options, visit BouncerDepot.com
# # #