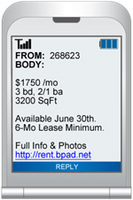 Many of the most active wireless customers live in homes, apartments, or condo's that they rent
Indianapolis, IN (PRWEB) July 24, 2007
Bouncepad, a leading mobile marketing service for the real estate industry, is expanding its services today to allow individuals, property managers, and leasing agents the ability to list their rental properties for free.
Bouncepad offers a unique property marketing service that uses text messaging and mobile-friendly websites. The service makes it easy for potential renters with a cell phone to get the info they want, when they want it.
Regardless of the version being used, Bouncepad provides text messaging access and a mobile friendly website to deliver property info, pricing, contact details, property photos, and more. Owners and agents can track activity, manage potential tenant requests, and print activity reports. In addition, Pro customers have access to advanced features and can respond to leads immediately.
"Many of the most active wireless customers live in homes, apartments, or condo's that they rent," said co-founder Brian Luerssen. "Now leasing agents and property owners trying to attract renters have a new way to reach that market, for free." In fact, at least 70% of individuals under 35 have used text messaging.
Potential renters can view info on a specific property by sending a text message or by visiting a website optimized for their mobile phone. Displayed information includes a quick summary, property details, owner/agent contact info, photos, and more. Potential renters can even request a property showing or more details via email. Bouncepad is free to use, but standard data or sms rates may apply, depending upon the individual's wireless service plan.
In addition, Bouncepad is now offering the ability for large property management companies to expand their reach into the mobile arena and integrate the technology into existing systems while maintaining their current brands and websites.
Interested individuals or leasing agents can get started immediately: simply sign up online and add your properties, for free.
About Bouncepad
Bouncepad is a mobile property marketing service, founded by Brian Luerssen and John Whelan in 2006. Designed and developed using technology systems that grew out of their other company, Proxito - Bouncepad makes property information available on mobile devices, from anywhere, at any time. For media inquiries, please call 888-268-6273 x408 or email press(@)bouncepad.com . For more information, please visit http://www.bouncepad.com.
###