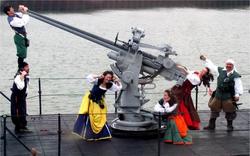 This group is doing it right. They're giving support in just the right way to lift the spirits of our G.I.s.
Chicago, IL (PRWEB) July 1, 2008 –-
The vocal group, Bounding Main, on their first European tour, will be bringing their spirited music to American troops at the Landstuhl Regional Medical Center in Germany in early August.
"We originally only planned to come out to represent the US at an international maritime music festival, called Festival Maritim, in Germany," said group member David Yondorf. "This was quite an honor by itself! Then we got wind of an effort to send music CDs to the troops and we thought 'hey, we're going to be right by the hospital, let's bring them a live performance.'"
Music director Jon Krivitzky took over the organization of the European tour. After months of corresponding with various agencies from the American Army, Air Force and Navy he secured shows at Spangdahlem Air Base as well as at Landstuhl. "Landstuhl is the largest military hospital outside of the continental US, and some of the most serious casualties from the conflicts in Iraq and Afghanistan are being treated there. If we can bring a bit of relief to these people and the excellent staff treating them, well, that is the least we can do."
Group founder, Dean Calin, added, "I thought we should be able to give the troops some tangible memento of our visit, so I gathered several corporate sponsors to support the creation of a commemorative CD just for this trip." Sponsor David Goudreau, president of Northern Wings Repair and former US Marine aviator, said, "This group is doing it right. They're giving support in just the right way to lift the spirits of our G.I.s."
Bounding Main singer Gina Dalby, said, "It is important to us that we do our part to make sure
that our troops know they are appreciated by the people they're protecting and that they are in our thoughts." Gina wrote the dedication on the commemorative CD which reads, in part:
"Bounding Main proudly dedicates this limited edition CD to all those that serve in the United States military. Know that we are proud of each of you, every day, and that you and your service are always in our thoughts. There is no better time in history or better place in the world to live than right now in the United States of America."
Christie Dalby, another singer in the group, and sister to Gina, added, "We are collecting sponsorships, corporate and individual, to help defer the cost of producing and shipping these CD's that include handwritten notes from the individual sponsors. We are calling it Operation Share the Shanties."
Fan liaison Maggie Hannington worked closely with fellow performers in Europe to secure additional appearances, including a radio interview in The Netherlands and appearances at folk clubs. "We are wildly excited to be able to reach a whole new European audience."
Bounding Main has been performing together for over five years. Many of their songs are classified as "sea shanties" - tunes sung by sailors on tall ships. These songs would provide rhythm to labor-intensive tasks such as winding the anchor chain, raising the sail, or pumping water of out the hold. "They are the original team-building exercises," said Christie Dalby. "While our shows are a lot of fun and are very popular with our fans, we respect the fact that their origins come from men laboring under difficult circumstances. We think this ties in very well with the missions of our military today."
Bounding Main is based between Chicago and Milwaukee and performs sea shanties and nautical ballads at maritime museums, tall ship festivals, music festivals, renaissance faires, on the radio and at pirate-themed venues from their home port in the Western Great Lakes region of the US. They have released three CDs since their founding in January of 2003.
Bounding Main website: http://www.boundingmain.com
For photos and music samples from Bounding main please visit:
http://www.boundingmain.com/press/press_kit.htm
Bounding Main's European Tour Itinerary:
http://deport.boundingmain.com/whatsnew.htm#itinerary
More information on the Landstuhl Regional Medical Center: http://www.landstuhl.healthcare.hqusareur.army.mil/
More information on Northern Wings Repair: http://www.nwrepair.com/
Contact:
Dean J. Calin
Bounding Main
2100 LaSalle St.
Racine, WI 53402
Phone: 262-366-8591
http://www.boundingmain.com
bigjake@boundingmain.com
###