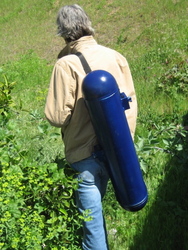 Los Angeles, CA (PRWEB) July 6, 2009
Bourne Energy 's new RiverStar BackPack Power Plant , the smallest of its RiverStar hydrokinetic energy series, is a portable zero-fuel continuous power generator which offers a new dimension in renewable energy systems - ultra-portable 24/7/365 power. The BackPack Power Plant is a man-portable renewable energy generator measuring only 3 feet in length and weighing less than 30 pounds. Each unit is self-contained with its own integrated power, control, cooling and sensor systems. The unit collapses into a backpack size module with the generator, hub and folded turbine blades stored inside. The unit produces approximately 500 W high quality continuous power, depending on river current. The BackPack Power Plant can be set up singularly or in arrays of over 20 kW. These units can also be bottom mounted to be totally invisible. The BackPack Power Plant can be carried into rugged, remote areas and quickly set up in small steady or seasonal rivers and streams using Bourne's novel submerged horizontal mooring system. Its high mobility and quick installation and dismantling allows the user to move the unit during seasonal variations in river currents. This opens up large areas of the world to this new type of renewable energy. The Backpack Power Plant can be used to power remote villages, clinics and schools in remote areas of the world. It can also be used for powering both integrated and shore mounted potable water making systems for the many countries suffering from poor water quality.
The BackPack Power Plant operates silently with no heat or exhaust emissions. There is no threat of dumping used engine oil into the area making it an excellent power candidate for environmentally sensitive regions such as headwaters and rainforests. And there is no longer need to continuously truck in generator fuel either. The BackPack Power Plant cuts total lifecycle operating cost more than 90% compared to current portable gas-engine driven generators. Fuel savings alone assures payback in little over a year at current fuel prices.
This technology opens up enormous potential energy hidden in the rivers and streams of many remote areas of the world that need electricity for basic needs but cannot afford the cost of fossil fuels. The Backpack Power Plant brings the energy intensive tools of the modern world - lights, refrigeration, computers and communications for homes, schools and clinics - to the most remote areas.
Bourne designs portable micro-hydro power systems that provide portable off-grid power systems for camping, remote field work, emergency power generators, remote homes, ranches and the military. Bourne has also developed larger scale versions of its river, tidal and ocean power systems with power outputs ranging from 50kW to 3MW per unit.
For more information, visit http://www.bourneenergy.com.
# # #