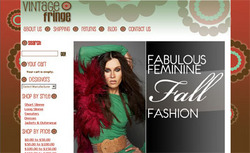 We went online first because we believe that is the new channel of convenience
Denver, CO (PRWEB) September 25, 2008
Vintage Fringe opens its online store and separates itself from other online clothing boutiques with its high quality, vintage-inspired clothing that meets the criteria of its discerning customers. The clientele the store serves want high quality clothing that is functional, comfortable, and trendy. The selection of ladies sweaters and tops are simple, but distinctive, and it also carries jackets, outerwear, and dresses for women.
"We went online first because we believe that is the new channel of convenience," says President and CEO Krista Warnick. "Today's modern woman may not have time to go to the mall and try everything on because she has kids to contend with or a job that keeps her from shopping during store hours. We want everyone to love their clothes as much as we do. Even though we don't currently have a physical storefront, we have tried to give our website the atmosphere of a little boutique, but with the convenience of a bigger store."
As an online boutique, VintageFringe.com zeros in on the convenience and necessity of online shopping for the busy working woman as opposed to the hassle of driving to storefront women's clothing boutiques. The eCommerce site stocks new designer womens clothing labels that appeal to a hip female audience, such as Velvet brand clothing, Zooey clothing, and Sweet Pea clothing, and also offers free shipping and an inclusive return policy.
Vintage Fringe is the realization of Warnick's dream to own a clothing boutique. She related her own annoyance and women's universal frustration with shopping at the usual clothing stores for women and seeing the same styles over and over. Her goal was to find distinct designer women's boutique clothing that was of high quality, trendy, and wearable for the woman who must do more than walk the catwalk everyday. The boutique clothing look is focused on details, or the "fringe," and is made for everyday wear and a professional style.
This website will offer a mix of designers and styles, comparable to the walk-in funky clothing boutiques. As Warnick puts it, she is going for the "where did you get that?" appeal. They seek out hip, new designers that have an element of uniqueness to their styles, and Vintage Fringe adds new designers continuously to keep their selections varied and fresh. The Splendid and Ella Moss labels will be added to their boutique clothing lineup soon.
For a fun and hip alternative in women's clothing and to preview the fall fashion lineup, visit VintageFringe.com.
About Vintage Fringe, LLC:
Prior to fulfilling her dream of operating a boutique for designer womens clothing, Vintage Fringe founder Krista Warnick worked in finance as an accountant and an investment banker. Vintage Fringe, based in Denver, Colo., brings designer women's clothing to the modern shopper via this hip Internet boutique. The website, VintageFringe.com carries eclectic and funky designer labels and continually updates its offerings. The clothing items are brand new, but have a vintage-inspired feel and a distinct element of the "fringe."
###