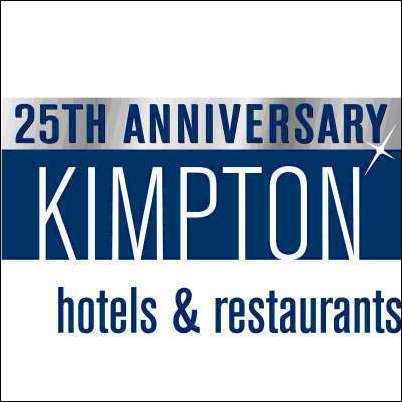 Forgot It, We've Got It
SAN FRANCISCO, CA (PRWEB) December 15, 2006
Kimpton Hotels & Restaurants, leader in the boutique hotel industry, is a winner of the "Outstanding Website" award in the Web Marketing Association's tenth annual WebAward Competition. Kimpton's website, http://www.kimptonhotels.com, took top honors in the Hotel & Lodging category for its design and innovation, helping to set the standards for website development in the hospitality industry.
Founded by the Web Marketing Association in 1997, the WebAwards is the standards-defining competition that sets industry benchmarks. The goal of the WebAwards is to provide a forum to recognize the people and organizations responsible for developing some of the most effective websites on the Internet today.
"Kimpton is very honored to be recognized by the Web Marketing Association," said Steve Pinetti, senior vice president of sales and marketing for Kimpton Hotels & Restaurants. "Our website is a crucial driver of our business and we understand that the consumer is looking for a user-friendly and visually appealing site. Kimpton will continue to incorporate new technology to make our site a most effective marketing tool."
WebAwards are judged by a team of independent Internet professionals representing a variety of relevant website-development disciplines. Judges include members of the media, advertising executives, website designers, creative directors, corporate marketing executives, content providers and webmasters. Websites are judged on design, innovation, content, technology, copywriting and ease of use. Each website is judged on all seven categories and earns a score between 0 and 70 points. Web sites scoring 60 or greater receive the Outstanding Website WebAward.
About Kimpton
Celebrating its 25th anniversary, San Francisco-based Kimpton Hotels & Restaurants is the first, leading and largest collection of boutique hotels throughout the United States and Canada. Founded by Bill Kimpton in 1981, Kimpton Hotels offers services and design elements focused on care, comfort, style, flavor and fun. Every Kimpton hotel reflects the energy, personality and pulse of its location, history and architectural style. Each property features personalized guest services, comforting in-room amenities, specialty rooms and suites and provides a range of exciting culinary experiences through affiliated top-rated restaurants. Kimpton takes pride in its commitment to social responsibility and leads the hospitality industry in ecological practices through its innovative EarthCare programs. In addition, Kimpton demonstrates a unique dedication to its female guests with the Women InTouch program, offering comfortable and safe environments, in-room fitness and wellness options as well as the company's unique "Forgot It, We've Got It" honor bar, providing essentials that women travelers may have forgotten at home. Among the company's newest properties are the recently acquired Muse Hotel in New York, Nine Zero Hotel in Boston, and Caleo Resort and Spa in Scottsdale. Kimpton debuted the Hotel Palomar in Washington, D.C. in July 2006, and Hotel Palomar Dallas in September 2006. Additional projects are underway in Southern California, Texas, Florida and Virginia. For more information, please visit http://www.Kimptonhotels.com or call 1-800-KIMPTON.
For Further Information Contact:
Jamie Law, Kimpton Hotels
(415) 955-5495
###