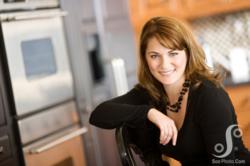 The point of a headshot is to allow your potential clients to get to know you before they see you
San Jose, CA (Vocus/PRWEB) May 13, 2011
Promoting a business is one of the key factors for the success of a company. Often customers like to do business with folks they know—or at least know what they look like. That is why incorporating head shot photos into business advertising is vital.
A website or advertisement for a company without images of executives often does less business than those with the pictures readily available. Michael Soo, owner of Soo Photography in San Jose, has created many headshots during his career and knows the importance of utilizing them for a business. He offers advice on how to create the perfect shot and look to garner favor with potential clients or customers.
As an internationally respected photographer and guru of digital imaging, Michael composes images that emit an aura of dynamism and harmony. His artistic skills are reflected in his collection of fine art and commercial photography, including executive portraits, lifestyle, products and food that were featured in numerous international magazine covers, newspapers and exhibits.
"The point of a headshot is to allow your potential clients to get to know you before they see you," said Michael Soo, owner of Soo Photography. "If you are picking an attorney to fight for you in a big case, for example, you would want to hire someone who appears strong and confident, a somewhat domineeringly and brilliant attorney."
Headshots for a high executive should showcase the subject in a dark business suit with a stern, but not angry, look on his or her face. For realtors the look should be different. They need an approachable and welcoming look with a warm smile. Clients will judge a business based upon the image that they see and how the image makes them feel. Therefore, important details in every headshot should be considered such as being specific and straightforward. Michael also suggests updating the headshots once every two years. Not only is this practical for the success of the business, it also allows for the cost of the photo session to be spread over two years. Promoting one's business is very crucial and cutting costs in this step can increase your bottom line later on. Taking the expert advice of Michael Soo can give customers a significant competitive advantage.
For more information, call 408-666-8455 or visit him on the web at http://www.soophotography.com.
About Soo Photography
Michael Soo has made photography his life's work. His camera and his amazing eye captures images that take on a life of their own, seizing the essence and emotion of the moment.
Soo Photography is a boutique photography firm that specializes in the following types of photography: commercial and corporate, headshot, fashion, food, and wedding. He is available to travel to any destination.
# # #