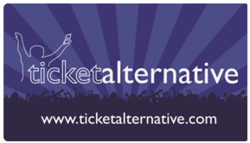 We feel that their customers will enjoy having control in the seat selection process.
Atlanta, GA (PRWEB) November 12, 2012
Ticket Alternative, a boutique ticketing partner, announced the launch of Pick-A-Seat Interactive Seat Maps. In 3 simple steps, customers purchasing tickets can select a section, click on desired seats, select a preferred price type and quickly add tickets to their shopping carts. Pick-A-Seat Interactive Seat Maps are a key feature for venues with reserved seating, varied or dynamic pricing, unique sections, and ADA seating.
Ticket Alternative's HTML5- based Interactive Seat Map includes the ability to hover-over individual seats and sections to view seat availability and prices. The interactive map can be moved around for optimal viewing (drag and drop). Users have the ability to pan left and right and zoom in and out on a map. Sections can be color coded to quickly show availability or high demand seating.
While most venues choose to activate Pick-A-Seat after a busy on sale has passed, venues can easily turn on or turn off the Pick-A-Seat functionality at any time. This capability allows venues to control their seat inventory and make swift changes if needed.
"We are pleased to make the Pick-A-Seat feature available to clients with reserved seating and we feel that their customers will enjoy having control in the seat selection process," said Ticket Alternative President Iain Bluett. "When patrons have the opportunity to select their own seats they feel like they are getting a more personalized experience, especially if they are already familiar with the venue. "
The Pick-A-Seat feature has always been attractive to a variety of venues, but the technology is very important to theatrical productions. Customers are typically sitting for longer periods of time and they may have different seat preferences in regards to visibility and location to the lobby.   
"For an intimate 200-seat theater like Theatrical Outfit, Pick-A-Seat allows even more accessibility for our patrons, customizing their night out here at the Balzer Theater, said Hally Joseph, Director of Marketing for Theatrical Outfit. Whether our patrons love the front row or the back row, enjoy an aisle seat or dead center, Pick-A-Seat easily accommodates their needs while personalizing their experience."
For more information on Pick-A-Seat Interactive Seat Maps or to request a demonstration, please visit http://www.TicketAlternative.com or call 1-877-725-8849.
About Ticket Alternative
Ticket Alternative tickets thousands of events and venues annually across the U.S. Based in Atlanta, with an international office in Tottenham, just outside London, Ticket Alternative can ticket almost every type of event, large or small, including concerts, sporting events, theater productions, festivals, and parties. Ticket Alternative's range of services includes an in-house call center, box office software, local ticket outlets, advance ticket sales including subscriptions and season tickets, donation & fund development, event marketing, access control, and event staffing. Ticket Alternative is also one of the largest sellers of event wristbands and custom printed tickets. The company has made the Inc .5000 list of fastest growing private U.S. companies for the past four years.