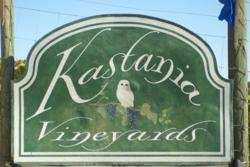 We would like to invite you to join the Kastania Wine Club and be able to enjoy our small production lots of Pinot Noir and Bordeaux Blends on a regular basis
Petaluma, CA (PRWEB) January 28, 2012
Kastania Vineyards, a Sonoma boutique winery and vineyard conveniently located off of Highway 101 in Sonoma County, has produced some of the finest award-winning wines available. Now, Kastania Vineyards' exclusive wine club membership gives members a special discount and access to some of its choice wines.
"We would like to invite you to join the Kastania Wine Club and be able to enjoy our small production lots of Pinot Noir and Bordeaux Blends on a regular basis," owner Hoot Smith of Kastania Vineyards said.
Members of the Kastania Wine Club will enjoy a 20-percent discount off the retail price on all wine purchases (sale items excluded). Club members will also be given first choice on all pre-released wines and receive invitations to all Kastania special events. Members receive three bottles of wine shipped four times a year. The shipping months are February, May, September and December.
Shipping is handled by a fulfillment house and shipping charges will be billed to the member's credit card on file with Kastania Vineyards.
Kastania Vineyards a Sonoma wine tasting winery produces between 800 and 1,000 cases of award-winning Sonoma County wines each year. It produces its wines in small lots from premium Estate-grown grapes, and its passion is to produce high-quality wines, perfect for any occasion. Kastania Vineyards is home to three grape varietals: Pinot Noir, Cabernet Sauvignon and Cabernet Franc. The quality of its wines are recognized year after year by distinguished judges in the country.
The winery and tasting room sit at the top of the property. The tasting room is open Saturdays and Sundays from 11 a.m. to 4 p.m. for tours and tastings. Monday through Friday, the vineyard is also available for wine tastings and tours, but only by appointment. Come and enjoy its wines and sweeping views of some of the most beautiful areas in the state.
For more information about any of Kastania Vineyards' products or services, call at 707-763-6348, view the vineyard on the web at http://www.kastaniavineyards.com or visit 4415 Kastania Road in Petaluma.
About Kastania Vineyards
Kastania Vineyards currently produces between 800 and 1,000 cases of award-winning Sonoma County Wines each year. Its current selections include Estate Grown Sonoma Coast Pinot Noir and Sonoma Coast Bordeaux Blend of Estate Grown Cabernet Franc and Cabernet Sauvignon. Its wines are sold primarily through the tasting room, which is open by appointment Monday through Friday and from 11 a.m. to 4 p.m. on Saturdays and Sundays.
###