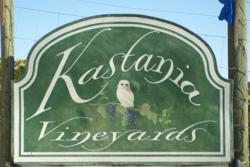 The grapes used in the Estate Wines are monitored for Brix, PH, and flavor prior to harvesting, to ensure maximum flavor and balance
Petaluma, CA (PRWEB) February 17, 2012
Kastania Vineyards, a small Sonoma boutique winery conveniently located just off of U.S. 101 in southern Sonoma County, features a tasting room for guests to enjoy wine tastings and tours. Visit Kastania and enjoy the view of the Petaluma River as it winds its way toward the San Pablo Bay. The tasting room is open Saturdays and Sundays from 11 a.m. to 4 p.m. for tours and tastings. Monday through Friday, the vineyard is also available for wine tastings and tours, but by appointment only.
Planted in 1995 on a parcel of land in southern Sonoma County, Kastania Vineyards has been in the Smith family since the 1860s. The vineyard is home to three varieties of grapes: the Pinot Noir, the Cabernet Franc and the Cabernet Sauvignon, with the focus on creating the highest quality grapes possible. Due to its premium location, the extended warm days, the maritime influence of cool nights through the Petaluma Gap and the distinct terroir all add complexity to the fruit.
"The grapes used in the Estate Wines are monitored for Brix, PH, and flavor prior to harvesting, to ensure maximum flavor and balance," Hoot Smith, owner of Kastania Vineyards, said. "The grapes are fermented in small open top fermenters and hand punched down three times a day. When fermentation is completed, a small basket bladder press is used to ensure only the most desirable flavors are extracted."
Kastania Vineyards produces three Estate Grown Wines: The Kastania Pinot Noir Estate Jaden and Keira's Cuvee, The Kastania Pinot Noir Estate Proprietor's Reserve and The Kastania Proprietor's Blend, which is a Bordeaux Blend of Cabernet Franc and Cabernet Sauvignon.
For more information about any of Kastania Vineyards' products or to make a wine-tasting appointment, call 707-763-6348, view the vineyard on the web at http://www.kastaniavineyards.com or visit 4415 Kastania Road in Petaluma.
About Kastania Vineyards
Kastania Vineyards currently produces between 800 and 1,000 cases of award-winning Sonoma County wines each year. Its current selections include the Estate Grown Sonoma Coast Pinot Noir, and the Sonoma Coast Bordeaux Blend of Estate Grown Cabernet Franc and Cabernet Sauvignon. Its wines are sold primarily through the tasting room, which is open by appointment Monday through Friday and from 11 a.m. to 4 p.m. on Saturdays and Sundays.
###