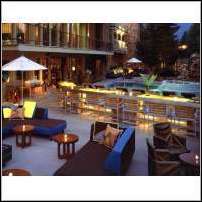 In 2006, Playboy magazine ranked Sky Hotel as the number one Sexiest Ski Lodge in North America
Aspen, CO (PRWEB) June 19, 2007
The Sky Hotel and 39 Degrees Lounge, Aspen's chic slope side boutique hotel and lounge, a Kimpton Hotel property, today announced it has been named one of America's Best Poolside Bars by Playboy magazine's Online A-list.
Playboy's A-list chose its list of the hottest poolside bars that have exotic, over-the-top atmospheres, creative food and drink menus and scantily clad customers. Playboy proclaimed 39 Degrees as the "après-ski destination for the young and restless crowd in the mood for extreme good times." The publication referenced the true scene of snow bunnies sipping cocktails around the pool and guests chilling out to down-tempo house music while sitting around the outdoor fire pits.
"In 2006, Playboy magazine ranked Sky Hotel as the number one Sexiest Ski Lodge in North America," said John Curnow, general manager of Sky Hotel and 39 Degrees Lounge. "We are thrilled to be named one of America's Best Poolside Bars in 2007. The publication is truly recognizing our unique and exotic environment, specifically in the town of Aspen."
At 8,100 feet, the Sky Hotel is Aspen's hippest, boutique hotel offering a sleek style and slopeside locale. The Colorado hotel's chic décor encompasses an Alice-in-Wonderland feel which leads to the ultra-hip 39 Degrees bar where guests can enjoy tasty flavors from executive chef, Shawn Lawrence or exotic libations from king mixologist, Denis Cote. Located at the base of Aspen Mountain, the Sky Hotel offers guests comfort, style, flavor, and fun; all just a snowball's throw away from Aspen's notorious restaurants, shopping and nightlife. For reservations or more information for your next Colorado getaway, call 970-429-7807 or visit http://www.theskyhotel.com.
Kimpton is a San Francisco-based company known for its collection of stylish luxury hotels. Founded in 1981, the company currently operates several hotels across the United States and Canada. Kimpton's combination of boutique-style and four-star service has proven a great success. Kimpton's signature elements are care, comfort, style, flavor and fun. For more information, please call 1-800-Kimpton or visit http://www.kimptonhotels.com.
# # #