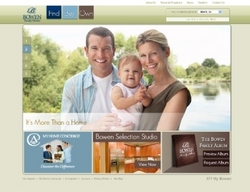 It is an amazing honor to be recognized as a Silver Award Winner from such a prestigious award ceremony as The Nationals. Our entire team worked extremely hard to create and launch our new Web site and we are incredibly proud of the final product
Atlanta, GA (Vocus) February 27, 2010
Late January, Bowen Family Homes was honored to win a Silver Award for Best Web site for a Builder at The Nationals award ceremony held during the National Association of Home Builders' (NAHB) annual International Builders' Show (IBS). The Nationals is the nation's largest competition for new-home sales and marketing professionals and communities. It pays tribute to superior new-home sales and marketing achievements by individual sales and marketing professionals, homebuilders and associates, and sales and marketing councils. This awards competition is presented annually by the National Sales and Marketing Council (NSMC) along with co-sponsor MetLife Home Loans, and additional sponsors including Move, Inc., Wells Fargo Home Mortgage and AT&T Connected Communities. This year's award ceremony was held at Caesar's Palace in Las Vegas.
This year's theme was "A Night of Recognition" and honored innovation, creativity and endurance of the best in new home sales and marketing. The event is one of the largest networking events for sales and marketing professionals at IBS.
"It is an amazing honor to be recognized as a Silver Award Winner from such a prestigious award ceremony as The Nationals. Our entire team worked extremely hard to create and launch our new Web site and we are incredibly proud of the final product," said Kelly Fink, Bowen Family Homes', regional marketing director. "We believe we have created a user friendly Web site to easily promote all of our communities, home designs and everything that Bowen Family Homes has to offer our homebuyers and Realtor partners."
The Bowen Family Homes Web site was judged on many different aspects including areas as user experience, appeal to their target market, design and innovation. The Bowen Web site was revamped and launched in early 2009 and incorporated many new features unlike other builders in their market.
A sampling of the improvements and goals include: media rich home page (TV commercial and photo galleries), enhanced user experience, interactive FIND/search function providing instant results to visitors, interactive map, easy links to request information, up to date available home inventory, printable brochures, and an abundance of photos, community videos and virtual tours. From a maintenance perspective the new Web site also allows easy revisions and additions of new webpages, communities, home designs and available home inventory providing instant updates allowing visitors to always see accurate details.
The Bowen Web site was also recently awarded the Gold Award for Best Website for a Builder during the OBIE Awards in November 2009. The Sales and Marketing Council of the Home Builders Association presents its annual OBIE Awards every November which began in 1980 and has grown consistently and now features more than 100 building, remodeling, marketing and personal achievement categories in which one can enter. The awards are the highest honor given in the Atlanta housing industry. To view this award winning website, please visit http://www.bowenfamilyhomes.com.
Since 1969 the Bowen name has stood for excellence in new home construction and community development. Bowen Family Homes is a dynamic homebuilder with operations in Georgia, Florida and Texas. In 2007, Bowen Family Homes was named Georgia Family Business of the Year among medium sized companies by Georgia Trend and the Cox Family Enterprise Center at Kennesaw State University. The Atlanta Business Chronicle ranked Bowen Family Homes 4th among metro Atlanta builders in 2008 and 52nd among Atlanta's Top 100 Private Companies for 2008. Bowen Family Homes was ranked 66th on the 2009 Professional Builder Giant 400 largest homebuilders in the United States list. Bowen was named the 39th Largest Homebuilder Nationwide by Builder Magazine in 2009 on their Top 100 List. These successes have been achieved by simply offering the best new home value in all price ranges.
Fan, Friend or Follow us: Bowen Family Homes Blog; @BowenFamilyHome,
Bowen Family Homes Facebook; YouTube, keyword Bowen Family Homes. For more information about Bowen Family Homes, please call their Atlanta region headquarters at 1-877 MY BOWEN, or visit online at http://www.bowenfamilyhomes.com.
# # #