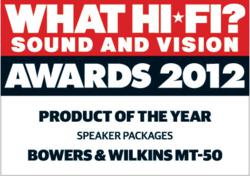 "The Bowers & Wilkins MT-50...delivers a totally immersive cinema experience within the comfort of the owner's home."
London, United Kingdom (PRWEB UK) 25 November 2012
The Bowers & Wilkins MT-50 Mini Theatre Speakers have been awarded Product of the Year for speaker packages in the What Hi-Fi? Sound and Vision Awards 2012.
The innovative British speaker company claimed three awards in total at the prestigious annual event, including Best Traditional Speaker Package £3,000+ for the Bowers & Wilkins CM9 Theatre and Best Style Speaker Package £1,500+ for the Bowers & Wilkins MT-60D.
But the biggest winner of all was the Bowers & Wilkins MT-50, a part of the Mini Theatre Series, which delivers a totally immersive cinema experience within the comfort of the owner's home.
Just like a glamorous cast of A-List Hollywood actors, the various parts of the MT-50 home theatre system complement one another and work together to create unbeatable cinematic sound.
Seamless integration of every satellite speaker and subwoofer ensures a single, unified experience in which no single speaker stands out or draws attention away from the most important element, the movie itself.
Lose yourself in the action and excitement of a Blockbuster adventure, or enjoy every luscious note of an unforgettable soundtrack. The ASW608 subwoofer might be one of the smallest in the Bowers & Wilkins home theatre range, but it packs an almighty sonic punch.
Meanwhile the MT-60D, another What Hi-Fi? award winner, is based around the PV1D subwoofer, which is instantly recognisable for its spherical design, and clean, vibration free sound. Both systems rely upon the brilliance and versatility of the M-1 speaker, which has benefitted from a complete technological overhaul. With all new drive units, the speakers sound better than ever, in complete harmony with one another.
Winner of Best Traditional Speaker Package in the £3,000+ category, the CM9 is a top of the range, EISA award winning, floor-standing speaker; capable of filling even the biggest domestic space with grandstanding sound. Big and powerful, but also crisp and detailed, the CM9 speaker creates an incredibly natural song; as though your favourite artists were standing in the room beside you.
From your favourite music to the latest edge of your seat movies, the Bowers & Wilkins range is the perfect way to enjoy clear, beautiful sound from the comfort of your own home. Visit the official Bowers & Wilkins site to find out more about all of the innovative home audio products available, and find out where you can purchase your very own.