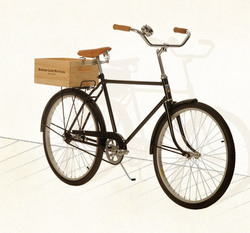 New York, New York (PRWEB) September 2, 2009
Vintage inspired bicycles launch in New York, NY. These vintage-inspired cruisers are comfortable to ride and easy to maintain. Commute to work, go to the store, or meet up with a few friends. Each bike is handmade in NYC with American steel using solar energy. Once again, you can have the coolest bike on your block. Founded in 2008, Bowery Lane Bicycles is committed to making affordable bikes that meet the actual day-to-day needs of the urban cyclist. We actively support urban cycle advocacy and the goal of reclaiming city streets for safe sustainable transportation. Each bike features a limited edition Dutch leather saddle, sustainable cork handles, locally handcrafted wood crate, front and rear fenders, and a classic brass head badge.
These bicycles are inspired by the Bowery neighborhood, one of the oldest thoroughfares in New York City. Before it was settled by the Dutch it was a Native American footpath. It later became a connection between the city and the farmland to the north. Its first residents were freed slaves. In its long and diverse history it has gone from the most elegant shopping and dining area to a dangerous neighborhood full of brothels and beer gardens; home to some of the toughest gangs of New York. These days the Bowery is going through a revival but continues to retain, for now, some of the grittiness that makes it a symbolic New York artery with deep roots to its past.
Bowery Lane Bicycles are welded, painted, assembled, packed and shipped all in Brooklyn, NY using sustainable solar energy. No big assembly lines, no mass production, no robots. Human hands. American Hands. All of the bikes are made with pride by a family owned and operated company. According to the National Bicycle Dealers Association's website, "The U.S. bicycle market is dominated by imported bicycles. In 2008, it is estimated that 99.53% of the bicycles sold in the U.S. were imported from China and Taiwan. Domestic production of bicycles in the U.S. is estimated at approximately 276,000 units at an average unit value of $489."
Bowery Lane Bicycles can be viewed at the following locations: Mini Mini Market in Brooklyn, NY; Farinelli's in Arlington, VA; Post Blue Jean Co. in Miami Beach, FL; Proper Fools Showroom in Los Angeles, CA; Bill Hallman in Atlanta, GA; Landmark Vintage Bicycles in New York, NY; and the WheelHouse in Santa Barbara, CA. Additional locations are being added everyday. Recent features have included Refinery29.com, Planet-Mag.com, Fader.com, Stylegrove.com and thrillist.com. Stay tuned, soon Bowery Lane Bicycles will be going international.
About Bowery Lane Bicycles
All of our vintage style bikes are made with pride in NYC by a family owned and operated company that has been making bicycles continuously since the 1800's. They are comfortable and easy to ride in tight city situations. We design and manufacture them with theft resistance and simple maintenance in mind. For additional information please visit hhtp://bowerylanebicycles.com [Bowery Lane Bicycles] or call 917.675.6484.
###