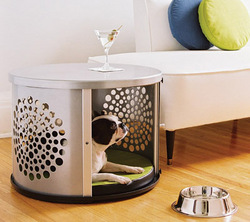 DenHaus brings pets and their people closer by helping them happily cohabitate, said Sarah Pierce, DenHaus Co-Founder and CEO.
Bellevue, WA (PRWEB) March 24, 2009
Today DenHaus announced the launch of its highly-coveted BowHaus, a designer dog crate that functions as furniture. With this launch DenHaus frees pet owners from the ugly dog crate and space-consuming dog bed syndrome. DenHaus recognizes that pet owners crave style and function from pet furniture and dog crates. Starting today, the BowHaus designer dog crate is available for order from the DenHaus web site.
"DenHaus brings pets and their people closer by helping them happily cohabitate, said Sarah Pierce, DenHaus Co-Founder and CEO. "People love how our designer dog crate furniture helps them be physically and emotionally closer to their pet. Instead of banishing pets to the basement or laundry room in their ugly crate, people can keep them in the family room, close to them and the action without worry. Our BowHaus modern dog crate furniture is a testament to our commitment to create lasting pieces of furniture in a variety of styles that both pets and people love."
The BowHaus dog den is an all-in-one dog crate, dog bed and end table. Dens, like the BowHaus, are increasing in popularity since they serve as an indoor dog crate and as furniture, such as an end table. The BowHaus is versatile as a dog crate and as furniture. Owners have the option to secure their dog inside or leave the door open to allow the dog to come and go freely from their 'home.' The BowHaus and other designer dog crates from DenHaus complement the home décor and serve an important function in dog training and lifelong care.
BowHaus - Designer Dog Crate Furniture with a Modern Flare
With its metallic color and striking starburst design, the BowHaus designer dog crate furniture collection is ideal for people with small dogs and limited space - common in urban lofts and homes. With the addition of the BowHaus modern dog crate furniture collection, fashion-forward dog owners who crave modern style and who are seeking a replacement for the ugly crate or space consuming dog bed have a perfect option. The BowHaus is designer dog crate furniture that serves as a sanctuary for the dog and a place to store the toys and treats out of sight. In this way, DenHaus makes it simple and stylish for pet owners to experience happy living with their pet. Sharing a modern home with dogs has never been easier.
Made in the USA
DenHaus, maker of designer dog crate furniture, is proud to support local economies by manufacturing the BowHaus in the United States. CEO Sarah Pierce commented, "We chose to do this partly out of appreciation for manufacturers and designers who provide jobs and teach fellow citizens important skills. By keeping all manufacturing in the U.S., transportation needs are reduced, which helps our environment. Plus, the packaging used for the BowHaus is 100% recyclable. This is a great step for us as we move towards making our entire operation more environmentally friendly."
About DenHaus
DenHaus designs dog crate furniture to help pet owners create personal space in their home for their pet that also works with style. The DenHaus dog crate furniture collection includes the sleek, sophisticated ZenHaus, the classic-looking, wooden TownHaus and now the modern BowHaus. All DenHaus dens are distinguished by unique design, quality craftsmanship, and superb comfort. The DenHaus mission is to help pets and their people live happily together.
###