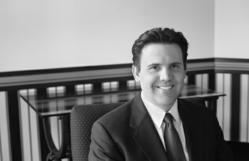 Bowie & Jensen is well positioned to continue on the successful path that Bob and Mark have established. I am looking forward to leading this talented and experienced team of attorneys into the future.
Towson, MD (PRWEB) July 26, 2011
Robert R. Bowie, Jr. and Mark T. Jensen announced today that Matthew G. Hjortsberg has been elected as Managing Member of Bowie & Jensen, a business law firm in Towson, Md.
"While Mark and I continue to litigate cases and advise businesses, it's time to turn over the day-to-day management of our practice to the next generation of the firm," said Mr. Bowie. "Matt is a skilled lawyer and a wonderful leader. I look forward to being a part of all of the positive changes he is making and to the many great years the firm has ahead."
"Matt has been intimately involved in every aspect of firm management, and is well prepared for the opportunities and challenges ahead," said Mr. Jensen. "I look forward to supporting my friend and partner as a new generation begins managing the firm."
Founded on March 1, 1990 as the Law Offices of Robert R. Bowie, Jr., the firm became Bowie & Jensen in March of 1992. Under the guidance of Mr. Bowie, who headed the litigation department, and Mr. Jensen, who headed the transaction department, the firm quickly grew to become a distinguished business law firm in the region.
"Over the last twenty-one years the law firm has grown to nineteen lawyers and with staff, to over thirty," said Mr. Bowie. "I am proud of the culture we have created and the quality of service that we have provided. When I started as the Law offices of Robert R. Bowie, Jr. I had a vision of creating a firm that would serve as general counsel to privately held companies. I think Bowie & Jensen represents the realization of that vision."
Mr. Bowie will continue to litigate significant cases, and mentor younger lawyers as they refine their talents and grow their practices. He will share the benefit of his almost 40 years of practicing business law at the highest level with associates at the firm. Mr. Jensen will continue to lead the transaction department, steer the firm as it grows and deftly guide businesses in an era of great financial change. Mr. Jensen will also continue to discretely represent Bowie & Jensen clients in some of the biggest mergers and acquisitions and real estate deals in Maryland.
Both are excited for the management of the firm to be in the hands of the next generation of Bowie & Jensen leaders.
"Bowie & Jensen is well positioned to continue on the successful path that Bob and Mark have established," said Mr. Hjortsberg. "I am looking forward to leading this talented and experienced team of attorneys into the future and look forward to Bob and Mark's guidance and support along the way."
Mr. Bowie heads Bowie & Jensen's litigation department. In that capacity, he has litigated all forms of business and business-related cases, including cases involving construction, intellectual property, trade secrets and administrative law. He has tried cases at the trial and appellate levels, in state and federal courts and in administrative hearings and in arbitration. Mr. Bowie received the prestigious Leader in Law Award from the Maryland Daily Record and is routinely listed as a Super Lawyer, a rating service of outstanding lawyers who have attained a high degree of peer recognition and professional achievement. Mr. Bowie has been actively involved in the Harvard Alumni Association, just completing a term as President. Mr. Bowie will continue to serve on the HAA's executive committee for the next four years. Mr. Bowie also is active in many charities and sits on numerous boards including the Columbia Bank, Everyman Theatre and Single Carrot Theatre. Mr. Bowie lives in Monkton.
Mr. Jensen heads Bowie & Jensen's transactional department and has received numerous legal and civic awards and most recently was named to SmartCEO's legal elite. As chairman of the firm's transactional department, Mr. Jensen focuses his practice on the representation of privately held businesses of all sizes, entrepreneurs and professionals, drawing on his personal experience and professional training to identify goals and develop strategies and tactics to achieve them. Mr. Jensen has been involved in hospital policy and governance for many years, including chairing the board of Union Memorial Hospital and he presently sits on the board of the Med Star health system and the executive committee of the Maryland Hospital Association. Mr. Jensen lives in Roland Park with his wife, son and baby foster daughter.
Matt Hjortsberg is a member of the firm's litigation department. His practice is concentrated on contract disputes and construction litigation as well as claims arising out of business break-ups. In the construction law area, Mr. Hjortsberg regularly handles mechanic's lien claims, bid protests, payment bond claims, construction defect claims and other payment disputes. He has handled a variety of construction matters ranging from home improvement cases to disputes arising out of the construction of major commercial and government facilities. He has tried cases in state and federal courts and before the American Arbitration Association. His notable cases include construction claims involving Ronald Reagan Airport, the Mid-Atlantic Sports Network (MASN), Canton Towers as well as, the successful defense of a local publicly traded company in a suit alleging violations of the Private Securities Litigation Reform Act, and the successful defense in a substantial breach of contact claim.
Mr. Hjortsberg is active in the community and is serving as President of the Maryland Chapter of the Leukemia and Lymphoma Society. Mr. Hjortsberg lives in Towson with his wife and two daughters.
About Bowie & Jensen
Bowie & Jensen is a Maryland-based law firm with attorneys representing clients around the world. Bowie & Jensen focuses on Business Litigation, Business Transactions, Intellectual Property, Employment Law, Estates & Trusts, Tax and Construction Law. For more information on Bowie & Jensen, please visit http://www.bowie-jensen.com.
Media Contact
Karen McGagh
Karen(at)karenmcgagh(dot)com
+443-632-4217
# # #