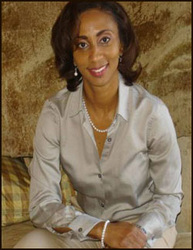 My interactive website is mainly intended to be a one-stop resource for choice Bowie homes for sale and other properties throughout Prince George's, Anne Arundel and Howard counties
Bowie, MD (PRWEB) October 19, 2010
Bowie, Maryland Realtor Karane Campbell recently launched her website, MarylandHomesAndPlaces.com. The site serves as an online gateway to the Bowie, Maryland real estate market, as well as to that of Prince George's County and its neighboring Metropolitan areas.
"My interactive website is mainly intended to be a one-stop resource for choice Bowie homes for sale and other properties throughout Prince George's, Anne Arundel and Howard counties," says Campbell.
Located around 18 miles to the northeast of Washington, D.C., Bowie is known for its exceptional quality of life. Its proximity to Fort Meade and other military bases in Maryland also makes it a popular choice for military families as well as professionals who work in the capital.
Visitors to MarylandHomesAndPlaces.com will find extensive search engines that can let them narrow down their choices and locate the specific property they want, from affordable homes in Maryland to distressed properties like Bowie foreclosures and Bowie short sales. Looking for a Bowie home for rent? There's a search engine for that as well.
MarylandHomesAndPlaces.com also includes real estate market reports for every county in Maryland and a free Maryland Property Listing Alert service, where visitors who sign up and be informed via e-mail of new and updated listings. Rounding up the website's features are useful online tools that display current mortgage rates and charts, and a loan payment calculator.
A short sale and pre-foreclosure expert with a CDRS (Certified Distressed Resolution Specialist) designation, Karane Campbell has amassed over a decade's worth of experience in providing full residential and commercial real estate services in Maryland, from buying and selling to home staging. As a Property Management Specialist, she also offers Lease Purchase, Lease with Option to Buy, or Rent-to-Own programs that maximize available options for homeowners.
In addition, she provides various military relocation services for bases staff and their families. "There's nothing more satisfying than making clients feel secure in what can be one of the biggest decisions of their lives," says Campbell. "I always make sure to give them whatever information, guidance and resources they need at the highest level of professional service."
For more information, visit http://www.MarylandHomesAndPlaces.com or get in touch directly with Karane Campbell today.
###