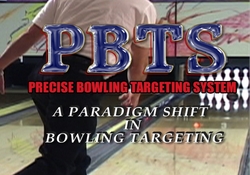 ... a paradigm shift in bowling targeting systems.
Marietta, GA (PRWEB) February 24, 2010
Former professional bowler James Blackstone today announced the re-launch of his popular training aid for bowlers, the Precise Bowling Targeting System (PBTS) along with a new website, ThePreciseSystem.com.
According to Blackstone, the Precise Bowling Targeting System represents a paradigm shift in bowling targeting systems. "PBTS is a revolutionary system that helps bowlers improve their accuracy and consistency under any lane conditions, just by identifying and adjusting for personal factors that influence the trajectory of the ball. In other words, through a system of precise calculations, PBTS eliminates the guesswork to help bowlers make accurate repeat shots, every frame and every game."
Blackstone goes on to explain that previous targeting systems focused on an imprecise target point down the lane. "But the human eye isn't calibrated to focus at a precise distance, and PBTS is unique in that it uses a stationary target line. From there, achieving a consistent, accurate approach is simply a matter of calculating and adjusting for those personal factors."
Although the Precise Bowling Targeting System has been on the market since 2003, it was previously available only at bowling tournaments and a handful of pro shops, according to Blackstone. "Even with our low-key marketing efforts, we've received a tremendous, enthusiastic response to PBTS," Blackstone says. "We've continued to improve the system since the original release, and now we're excited to make PBTS available to novice and competitive bowlers everywhere."
The Precise Bowling Targeting System includes a personal PBTS targeting card - the key component that sets PBTS apart from other systems, according to Blackstone - along with a 30-minute training video and an instructional booklet. For more information, visit the website at ThePreciseSystem.com, or call 1-678-779-4767.
About James Blackstone:
James Blackstone is a two-time winner of The National Bowling Association's prestigious Bill Rhodman Memorial Central Regional Tournament and the winner of the 2004 Bill Rhodman Memorial National Singles title. He has received many awards throughout his bowling career, including induction into the Greater Dayton Bowling Association Hall of Fame in 2005.
###