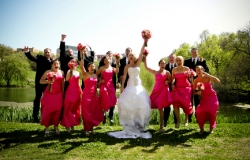 Grooms have often told us that finding a matching tie was a near impossible task until they found our site,
San Francisco, CA (PRWEB) December 06, 2011
From Kate Middleton to Kim Kardashian, any bride's wedding pictures are precious to her. While some marriages may only last for 72 days, at least pictures last forever. That's why popular online tie retailer Bows-n-Ties.com is asking brides and grooms to send in photographs of themselves outfitted in Bows-n-Ties.com's elegant bow and neck ties. The site is creating the ultimate wedding album, to be filled with hundreds of pictures of happy couples on their big day, wearing Bow-n-Ties.com fashions. Each couple who emails in a picture will receive a $50 gift certificate towards future purchases on Bows-n-Ties.com. Wedding pictures will be shared with the whole world at the page: Weddings & Bows-n-Ties.com
Bows-n-ties.com, reputed for being the best source on the Internet for finding ties to match particular wedding colors, carries color swatch cards from all major wedding retailers, including David's Bridal, JCrew, Vera Wang and Alfred Angelo. When a bride or groom calls asking for ties to match, for instance, her bridesmaids teal wedding dresses, the friendly staff at Bows-n-Ties.com does not rest until the color is perfectly matched. Bows-n-ties.com carries ties for the groom, the groomsmen and a special selection of kids ties, just for the ring bearer.
"About 1/3 of our business is wedding-related. Grooms have often told us that finding a matching tie was a near impossible task until they found our site," said Hendrik Pohl, the founder of Bows-n-Ties.com. "We always appreciate it when couples send in pictures of groom and groomsmen dressed in our ties. It's nice to see that we played a role in the happiest day of their lives. We're also asking customer that, if they have a story about their Bow-n-Ties wedding experience, to please share that too. We'll publish it for the whole world to see!"
Whether the wedding color scheme is robin's egg blue, gold, silver, pastel pink, white-on-white or mint green, Bows-n-Ties, which carries a selection of over 3,000 ties, will have the bow and neck ties to match. The site also carries everything a man needs to look dashing on his wedding day, from cufflinks to handkerchiefs to tie bars and even ascots.
Posed family pictures, photos of grooms and groomsmen walking down the aisle and candid dance floor pictures are all welcome. Photos can be emailed to customercare [at] bows-n-ties [dot] com. Customers will then receive a coupon code that can be redeemed for $50 worth of merchandise on Bows-n-Ties.com.
###