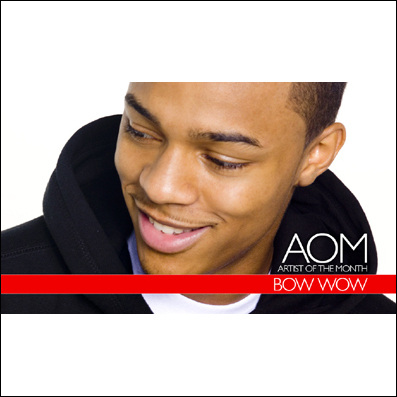 Music Choice recognized Bow Wow's talent early in his career; we knew he was going to be one of hip-hop music's superstars
New York, NY (PRWEB) December 15, 2006
Music Choice, the leading, multi-platform music network, today announced that Bow Wow, the rap and cultural icon who has grown into one of today's most prolific hip-hop artists, would be the featured 'Artist of the Month' in January on Music Choice On Demand. The artist promotional program, which reaches millions of music fans through their TVs and PCs, will feature twelve of Bow Wow's music videos, including "Shortie Like Mine," the # 1 hit single Bow Wow recorded with Chris Brown, along with several more fan favorites spanning his recording career. The exclusive shows available throughout the month of January on Music Choice On Demand include:
Bow Wow: THE PRICE OF FAME -- Bow Wow sits down with Music Choice to talk about his transition from a kid rap star known as Lil Bow Wow to his career today as Bow Wow, one of hip-hop music's most powerful recording artists. He also opens up with us about the sacrifices he has made over the years to achieve fame, which happens to be the focus and title of his new album, in-stores on December 19th on Columbia Records, "The Price of Fame."
Bow Wow ROAD TRIPPIN' -- Music Choice goes on the road with Bow Wow, giving our viewers an exclusive inside look at his tour bus as we travel to Philly for his concert event with Chris Brown.
Bow Wow "NAKED" -- Features a revealing interview where Bow Wow exposes his personal side by sharing memories from his childhood, talking about life as an adult, and his experiences with owning his own record label.
Bow Wow vs. Bow Wow -- The hip-hop artist takes viewers on a journey through his past and current music videos, commenting on the styles and romances from his early years to his current role as top dog!
"Music Choice On Demand has exploded as an incredible source of opportunity for our artists," says Gary Fisher, SVP of Video Promotions & TV Programming for Columbia Records. "The Music Choice Artist of the Month program is a tremendous marketing and promotional vehicle to drive awareness and CD sales for our premiere artists."
"Music Choice recognized Bow Wow's talent early in his career; we knew he was going to be one of hip-hop music's superstars," says Lamonda Williams, Director of Urban Programming for Music Choice. "As one of the most-watched artists on our video-on-demand service, Bow Wow was a perfect fit for our 'Artist of the Month' program because of his massive appeal to our nationwide audience."
About Music Choice®
Music Choice is the premier multi-platform music network that reaches millions of consumers nationwide through their TVs, PCs and cell phones. Music Choice programs both video and audio music channels, produces exclusive music shows, films in-studio artist performances and interviews, and distributes daily entertainment news. With offices in New York City and Horsham, PA, Music Choice is a partnership among subsidiaries of Microsoft Corporation, Motorola, Inc., Sony Corporation of America, EMI Music and several leading U.S. cable providers: Comcast Cable Communications, Cox Communications, and Time Warner Cable. MUSIC CHOICE® is a registered trademark of Music Choice. Visit the Music Choice website at http://www.musicchoice.com.
About Bow Wow®
Bow Wow -- whose film credits include "Like Mike" (one of the 50 Top Grossing films of 2002), "All About The Benjamins" (2003), "Johnson Family Vacation" (2004) and "Roll Bounce" -- may be seen in "The Fast and the Furious: Tokyo Drift" as well as in an episode of "Smallville." He is the youngest musician to open the Grammy Awards, is the first "kid" to be included in Vanity Fair's prestigious annual music issue (October 2001), and entered "The Guinness Book of World Records" as the youngest solo rapper to hit #1 on the U.S. charts.
With numerous hit singles, platinum-plus albums, sold-out tours, starring roles in hit films, and a place in "The Guinness Book of World Records" already on his resume, Bow Wow continues to prove that he's the 100% real deal with the indisputable goods: a bona fide superstar blessed with talent, tenacity, and a deep connection to his audience. Visit Bow Wow's website at http://www.bowwow87.com
Contacts:
Karen Doler
Music Choice
(215) 784-5842
For Bow Wow, Contact:
Edwin Banacia
Columbia Records
(212) 833-5072
# # #