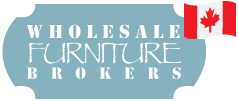 Our strategy in the market is to offer superior options and delight our customers with exceptional value.
Vancouver, British Columbia (PRWEB) December 26, 2011
Wholesale Furniture Brokers' overall 2011 sales on their Canadian site is expected to break last year's sales on Boxing Day. Sale growth in 2011 is predicted to be 5.44% higher compared to 2010. Contributing to the sales growth was their strategy of stocking popular products in their British Columbia warehouse, delivering the stocked products quicker within Canada, competitively lowering prices on popular products, and offering Canadians more value-priced products not commonly found in other Canadian retail and online stores.
Products with historically strong sales were chosen to be stocked in Wholesale Furniture Brokers' British Columbia warehouse. New containers of products have recently arrived at their warehouse including sectionals, sofas, bunk beds, bedroom sets, and memory foam mattresses. "The new shipment has arrived just in time for our one day Boxing Day Sale," says Matt Holmes, Wholesale Furniture Brokers' Marketing Manager. "Supply is limited, so customers are encouraged to order early so they don't have to wait for the next shipment to arrive." The stocked products need two to fourteen days of transit time to be delivered to a customer's home. "Our customers save one to two weeks in transit time with our stocked products compared to if they order a product that needs to cross the border," adds Holmes. Stocked products can be found in their 'free shipping Canada' category on the Canadian site.
Wholesale Furniture Brokers has been lowering prices on products across their site as new shipping procedures have been initiated. Orders arriving from the US are being placed weekly to consolidate shipments from the manufacturers' warehouses. "It's more work, but it saves our Canadian customers time and often money," states Holmes.
"Our strategy in the market is to offer superior options and delight our customers with exceptional value," says Holmes. Wholesale Furniture Brokers recognizes that buying furniture online takes a lot of trust and to earn customers' trust you need to compete by offering a better experience. "Prices on GoWFB.ca include free shipping. It's hard to find any other Canadian online store that will include home delivery across Canada and offer a massive selection of value-priced products like Wholesale Furniture Brokers," adds Holmes.
Holmes also credits improved relationships with their shipping companies. By working with the shipping companies, WFB has been able to reduce costs and transit times. "Delivery time has historically been the biggest point of pain with our customers, so we're working hard to improve it. We've made significant gains, but there is much more to be done in this area."
A one day Boxing Day sale was launched on their Canadian site featuring free shipping on everything and site-wide coupons. A one day last chance clearance sale was also launched on December 26 on their US site. The US sale features free shipping and no sales tax on everything. Site-wide coupons are also displayed on the site. The sales end at midnight.
About Wholesale Furniture Brokers
Wholesale Furniture Brokers offers price leading online furniture with free shipping to customers direct from the manufacturers in the USA and Canada. World-class customer service is provided to customers by telephone, email, and chat. Shoppers can choose from a growing collection of traditional, contemporary, and modern furniture styles for inside and outside of the home at Wholesale Furniture Brokers. Consumers do not need to pay a membership fee to buy from Wholesale Furniture Brokers.
###