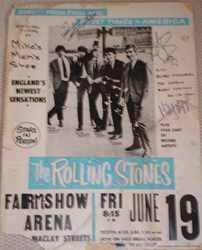 For the first Rolling Stones U.S. tour, it was up to the local promoter to decide concert poster style.
San Francisco, California (PRWEB) May 31, 2014
Serious Buyer, Andrew Hawley from Vintage Rock Posters, announces his search for original 1964-1965 boxing style Rolling Stones Concert posters. These posters were for the Stones' first and second U.S. tours. According to Hawley, "When the Rolling Stones first came over to the United States in the summer of 1964, the posters printed to advertise their shows were 'one off' designs. They were printed by the Murray Poster Printing Company of New York City and used the same promo band photo. When the Stones played the Farm Show Arena in Harrisburg, Pennsylvania in June 1964, Murray designed a blue, and white standard 14 x 22 inch boxing style poster featuring a promo photo of the band. The Stones poster for their New Haven concert used the same promo photo but the size, layout, colors used was totally different. (The New Haven show was cancelled ironically because lack of ticket sales.) For the first tour, it was up to the local promoter to decide concert poster style. For the second U.S. tour, the Stones decided to stick to a red white and blue traditional tour blank from city to city." For more information about psychedelic rock concert posters, go to http://www.vintageconcertposterbuyer.com/boxing_style/rolling_stones.html.
Hawley will pay $5,000 original 1964-1965 first and second U.S. Rolling Stones tour concert posters. If you happen to have one these relics, please call 310-346-1965 or email Hawley at andrew(at)vintageconcertposterbuyer(dot)com.