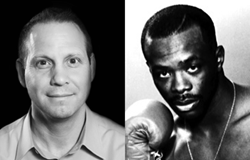 He is one of the few fighters today who uses a very effective technique that puts the fighter in a position to get hit, but also allows him to throw crosses at precise intervals. That is one of the topics we will dissect and illustrate in our book
(PRWEB) May 20, 2013
Classic boxing techniques expert Vinny Furlani, creator of the mobile magazine Art of Boxing, highlights the power of traditional boxing form, which undefeated five-division world champion Floyd Mayweather Jr. has again proven to master. As the brain behind the classic boxing form-inspired 10-Point Strategic Boxing System training program, Furlani announces a recently formed partnership with two-time world champion Tracy Patterson, to co-author a book that will elaborate on the 10-point plan, and offer Patterson's personal insight on every point.
Each chapter of the book will focus on an individual step of the system, where Vinny will discuss a specific technique, while offering comprehensive descriptions and exposing its superiority in comparison to other methods. Patterson will provide his practical view of each step, using examples from real fights.
The project is designed to make the program accessible to fans of the sport - so they know what to look for when watching a fight - and to fighters at all levels of boxing and other alternate genres of fighting, such as Mixed-Martial Arts. "Champions like Floyd Mayweather prove again and again that there is no other way to fight but the "old way, the right way," declares Furlani, attesting Mayweather is a natural expert of the 10-point plan. "He is one of the few fighters today who uses a very effective technique that actually puts the fighter in a position to get hit, but also allows him to throw crosses at precise intervals. That is one of the topics we will dissect and illustrate in our book."
According to Stephen Espinoza, head of Showtime Sports, regarding the Floyd Mayweather Jr. vs. Robert Guerrero fight, "Those who found the fight boring missed Mayweather's genius. Mayweather dipped under Guerrero's punches, slid around Guerrero's grasp, landed right-handed pot shots. It was clinical, surgical, efficient. It was artistic."
While Furlani and Patterson's book is in the works, the 10-Point Strategic Boxing System can be partially accessed through Art of Boxing Magazine. Each month, the mobile publication presents a new step of the system in a section called Vinny's Corner, and introduces readers to the advantages of classic boxing techniques.
In the upcoming May issue, Vinny will bring in the first two points of the system - the Jab (Point 1) and Cross (Point 2). "Learning the foundation of classic boxing form is crucial in order to grow as a boxer. In the April issue, Vinny's Corner effectively detailed The Boxing Stance (the foundation of the system). Now learning Points 1 & 2, the Jab and Cross, in the May issue, prior to learning other power punches, will enable the fighter to advance to the next level," adds Furlani.
The iMag is now available for subscription through the iTunes Store and http://www.artofboxingmag.com.
About Vinny Furlani
Vinny has been exposed to boxing for close to 30 years, being active in the sport for 15 of those years (either fighting or coaching). Starting his fighting training at 18 years old, Vinny was coached for 11 years by former Olympic Gold Medalist and 2-time Heavy Weight Champion, Floyd Patterson, a follower of the legendary Cus D'Amato model, which has been proven through the success achieved by Mike Tyson. Vinny Furlani has fought against Champions and renowned fighters, and debuted on the National stage in 1987. In 1988, he joined the USA International Amateur Boxing Team and became a professional fighter later that year, fighting an undercard match during teammate Tracy Harris-Patterson's main event. After a brief professional career, he moved on to coaching fighters participating in New York's Golden Gloves, even assisting in Patterson's corner in several other matches. More information is available through http://www.artofboxingmag.com.