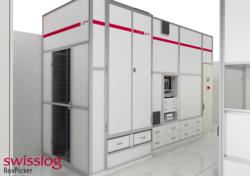 Unlike vertical carousels, BoxPicker's optional narcotics vault offers hospital pharmacies a solution that will allow them to be confident in the safety and security of high-profile medications.
Denver, CO (PRWEB) February 21, 2012
Swisslog, a leading provider of automated materials transport and medication management solutions for hospitals, today announced the availability of its drug storage and retrieval machine, BoxPicker™, with an optional vault to securely store narcotics.
BoxPicker is an alternative to vertical carousels, offering secure storage of bulk medications and supplies. The new armored module, or vault, is designed to meet controlled-substance security requirements and reporting set by various regulatory bodies monitoring the chain-of-custody and management of narcotics. The vault's security measures include bio-authenticated entry, a pneumatic-lock internal shutter system, magnetic sensors, and a stand-alone alarm system. BoxPicker already offers dual-temperature and refrigerated storage options, as well as a modular design with multiple operator stations.
"With the addition of narcotics handling, BoxPicker is easily considered the most advanced, versatile, high-density storage and retrieval solution in the healthcare industry. Carousels could easily become a thing of the past," said Ben Hinnen, vice president of Swisslog's Automated Drug Management Systems (ADMS) business unit.
Hinnen continued, "The security of controlled substances within the hospital pharmacy is immensely important. Unlike vertical carousels, BoxPicker's optional narcotics vault offers hospital pharmacies a solution that will allow them to be confident in the safety and security of high-profile medications."
When retrieving a controlled substance, approved operators will use the bio-authentication pad to verify their identity and credentials. Once verified, they can then retrieve the controlled substances requested for patient orders and/or cabinet replenishment. Upon request, the interior armored wall will raise to allow the crane to move to the selected bin. As with all BoxPicker configurations, access will be limited to one bin at a time. The bin will then be delivered to a locked drawer. Once opened, the operator is required to scan the medications. Only approved users will have permission to access narcotics within the system.
Swisslog Healthcare Solutions is the leading supplier of logistics automation solutions for healthcare facilities. Swisslog has installed automated materials transport and medication management systems in more than 3,000 hospitals around the world, including more than 2,000 in North America. Swisslog offers total systems design, manufacturing, installation and customer support providing a complete supply chain management approach to the logistics challenges of hospitals. The North American division of Swisslog Healthcare Solutions is based in Denver, CO.
About Swisslog
Swisslog is a global provider of integrated logistics solutions for warehouses, distribution centers and hospitals. Its comprehensive services portfolio ranges from building complex warehouses and distribution centers to implementing Swisslog's own software to intra-company logistics solutions for hospitals.
Swisslog's solutions optimize customers' production, logistics and distribution processes in order to increase flexibility, responsiveness and quality of service while minimizing logistics costs. With years of experience in the development and implementation of integrated logistics solutions, Swisslog provides the expertise that customers in more than 50 countries rely on.
Headquartered in Buchs/Aarau, Switzerland, Swisslog currently employs over 2,000 staff in about 20 countries worldwide. The group's parent company, Swisslog Holding AG, is listed on the SIX Swiss Exchange (security number: 1232462, Telekurs: SLOG, Reuters: SLOG.S). For more information, visit http://www.swisslog.com.
# # #