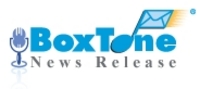 the first personal BlackBerry self management tool for mobile workers
Columbia, MD (PRWEB) January 7, 2009
BoxTone(R) Inc., the expert in mobile user management, today reported that sales of its management, monitoring and support software modules for the BlackBerry(R) platform finished the most recent fiscal year on a double-digit growth trajectory, exceeding sales plans and making the company a rare success story in an otherwise difficult macro environment for enterprise technology sales.
For the quarter and fiscal year ending December 31, 2008, BoxTone experienced a 33 percent increase in sales over the same quarter last year, and a 56 percent increase in sales year-over-year.
The Maryland-based software and services company also saw its market leading client base move past 190 -- representing an increase of 90 percent year-over-year -- with the total number of mobile end users licensed under BoxTone software now at 415,000. Customer loyalty remained strong as well, with BoxTone software renewal rates hovering in the 97 percent range.
Said Alan Snyder, BoxTone's CEO, "BoxTone's focus on delivering real value to our customers, coupled with our superior execution and product capabilities, made the difference in this difficult environment."
Some BoxTone company highlights for the fiscal year 2008:
Passed the 190 customer mark: nearly doubling year-over-year
Hit 415,000 BoxTone licensed user mark: top 40 customers average 8,000+ BoxTone licensed users
Embraced by market leaders: more Fortune(R) 1000/Global 2000 clients than any other in space, representing 26 Fortune industry sectors, including 11 ranked No. 1 in their respective sectors, and 8 more ranked No. 2 or 3 in their respective sectors
Analyst Favorite: Named by Forrester Research to its "Top 10 Hot Companies To Watch" list for BoxTone's "real-time reporting capabilities, security features, and reporting tools (which) help organizations be more efficient and effective with their mobility dollars."
Award Winner: Named Best of WES 2008 by CrackBerry.com
Expanded international presence: partnered with Interchange Group to resell BoxTone across the United Kingdom, and OffShore Tech to resell BoxTone in Spain, with quick wins out of the gate
Platform Innovator: announced BoxTone v3.1, the industry's first modular platform for BlackBerry mobile user management
Smartphone Innovator: launched myBoxTone Expert, "the first personal BlackBerry self management tool for mobile workers" according to The 451 Group, and called by CIO.com "the on-device IT help desk"
Customer Favorite: Experienced 97 percent renewal rate
BoxTone offers the most comprehensive set of plug-and-play software modules on the market to effectively manage, monitor and support the BlackBerry for Microsoft Exchange or IBM Lotus Domino platforms. Deployable in hours with no agents, no load and no risk, and suitable for mobility experts as well as IT pros new to the space, BoxTone users see real ROI whether they support 50 or 50,000 smartphones, including:
30-40% Fewer Incidents in first 90 days
70-80% Faster Mean Time to Repair
70-80% Fewer Service Desk to IT Escalations
Up to $220,000 in annualized savings per 1,000 smartphone users
Telecommunications giant BT provides managed BlackBerry platform services for a large British Government agency, trusting BoxTone software to monitor both the health and availability of the Agency's BlackBerry Enterprise Server as well as individual users. Said Alan Calverley, gateway team leader for BT for the project, "If there's a problem with an individual user, we look at the user summary in BoxTone and drill down to the user performance details. If we see any service count errors on the Server, we can drill down to investigate them. What used to be a labor-intensive troubleshooting effort now takes dramatically less time and is far more effective, thanks to BoxTone."
The secret behind these and other BoxTone client successes is a patented technology called SmartMP(TM) that uses high-volume data collectors, analyzers and mobile pattern-specific rules engines to instrument and measure end-to-end the actual performance of all mobile users 24x7. Those individual points of actual user experience performance -- including performance at each hop of user email and application flows -- are correlated with hundreds of application- and infrastructure-level data points to deliver both a real-time and historical picture of user and end-to-end BlackBerry ecosystem performance.
"We understand that now more than ever it is important for customers to be able to trust their vendors to deliver real value immediately, and that they will be there for them in the long run," added Snyder. "BoxTone has the best product, vision and team, and is well positioned to support our customers both today and in the future."
About BoxTone:
BoxTone software is trusted by more than 190 of the world's leading enterprises and government agencies, including 65 in the Global 2000, to manage, monitor and support their BlackBerry platforms. Built on patented SmartMP technology and conforming to industry standard ITIL best practices, BoxTone's comprehensive modular platform and role-specific consoles enable IT and services organizations to collaboratively reduce support costs, accommodate rapid device growth, and guarantee the high quality of service that mobile users demand. Learn more from the expert in mobile user management at http://www.boxtone.com, or call +1 410-910-3344.
BoxTone and the BoxTone logo are trademarks of BoxTone. The BlackBerry and RIM families of related marks, images and symbols are the exclusive properties and trademarks of Research In Motion Limited. All other product or company names mentioned are used for identification purposes only and may be trademarks of their respective owners.
###