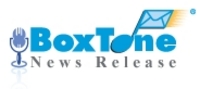 BoxTone's selection as a CTIA E-Tech finalist is a not only a testament to our technology, but also illustrates the hard work and dedication of our employees.
Columbia, MD (PRWEB) March 23, 2010
BoxTone(R), the expert in mobile user management, today announced that its Mobile User Management solution, BoxTone 5.0, is a finalist in CTIA's Emerging Technology (E-Tech) Awards. BoxTone 5.0 was selected in the General Enterprise or Business Solution category, which honors wireless hardware or software solutions that help to solve or fill enterprise needs.
"With over 230 customers leveraging BoxTone to support over 500,000 smartphone devices, we have unique insight into the ever-changing requirements of enterprise mobile deployments," said Alan Snyder, CEO, BoxTone. "This intelligence allows us to understand our customer's mobile issues and develop solutions that improve mobile service quality, at a lower cost. BoxTone's selection as a finalist is a not only a testament to our technology, but also illustrates the hard work and dedication of our employees."
The E-Tech Awards recognize products in 15 categories in the areas of mobile consumer electronics, luxury mobile, applications, enterprise, green solutions and network technology. With over 300 nominations, judges selected finalists from a record number of entries. Products were judged on innovation, functionality, technological importance, implementation and overall "wow" factor by more than 80 prominent media and industry analysts. Winners will be announced March 24, 2010 on the exhibit floor of the International CTIA WIRELESS show in Las Vegas.
The BoxTone 5.0 software suite includes modules for: Asset, Expense & Compliance Management, to unlock and control critical mobile data while recovering 3-8 percent in costs from under-utilized devices and roaming; Incident Management, designed to proactively warn of pending issues before users call while cutting mean time to repair (MTTR) by 70-80 percent; Problem Management, to proactively tune system performance and resolve chronic issues, reducing costly incidents by 30-40 percent; Service Desk Management, useable by even novice staff to resolve inbound mobile user support calls in less than three minutes, the first time; and User Self-Service, to warn and empower users to resolve problems at the source, reducing service desk calls by 25-40 percent.
BoxTone 5.0 is available now for purchase by enterprises, governmental entities and MSPs. There are licensing packages to fit most needs and budgets, including starter packages for smaller organizations. For a price quote, call BoxTone at +1 410-910-3344.
About BoxTone
BoxTone software is trusted by more than 230 of the world's leading enterprises and government agencies, including 70 in the Global 2000, to manage, monitor and support multiple smartphone platforms including BlackBerry, Apple iPhone, Google Android, Nokia and Windows Mobile. Built on patented SmartMP(TM) technology and conforming to industry standard ITIL-ITSM best practices, BoxTone's modular software suite and role-specific consoles enable IT and services organizations to proactively improve mobile performance, reduce support costs and accommodate rapid smartphone growth, all while guaranteeing the high quality of service that mobile users demand. Learn more from the expert in mobile user management at http://www.boxtone.com, or call 1 410-910-3344.BoxTone and the BoxTone logo are trademarks of BoxTone, Inc. The BlackBerry and RIM families of related marks, images and symbols are the exclusive properties and trademarks of Research In Motion Limited. All other product or company names mentioned are used for identification purposes only and may be trademarks of their respective owners.
BoxTone and the BoxTone logo are trademarks of BoxTone. The BlackBerry and RIM families of related marks, images and symbols are the exclusive properties and trademarks of Research In Motion Limited. All other product or company names mentioned are used for identification purposes only and may be trademarks of their respective owners
###